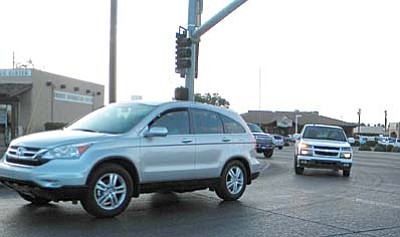 Originally Published: June 1, 2013 1:20 p.m.
COTTONWOOD -- Everyone has been stuck in this one. It is the end of the day -- drive time -- and cars are leaving Cottonwood, watching the traffic stuck in front of the Cottonwood Chamber of Commerce Visitors Center. The right-turn lane capacity is just not there when everyone is going home to Verde Village, Camp Verde or even to Phoenix.
ADOT has a right-turn lane project in the works for the intersection of State Route 89a and SR 260, according to ADOT spokesman Dustin Krugel.
"This improvement project will add an additional right turn lane, creating a dual-lane movement from northbound SR 89A to eastbound SR 260 in an effort to improve capacity and enhance safety at the intersection."
 "The project is estimated to cost $225,000 and is scheduled to go to bid after this month's State Transportation Board meeting June 14 and to start late this summer after a contract is awarded."
It should be finished before the end of the year.
The project is included in all three of the scenarios the state board is considering. The board is expected to ratify the final plan at the June 14 meeting in Pinetop.
More like this story