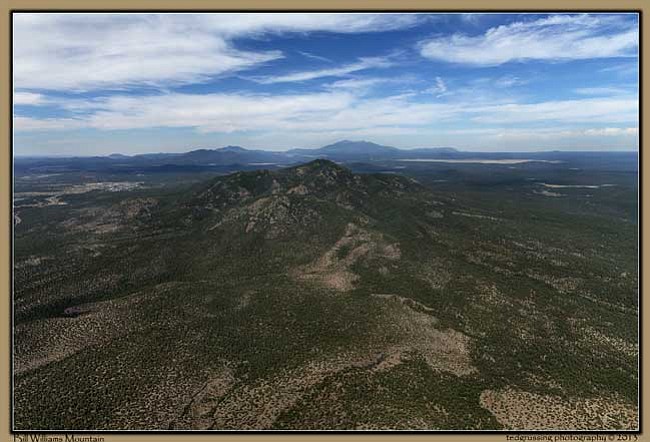 Originally Published: June 12, 2013 9:13 a.m.
... was an adventurer with a gift of languages, born in 1787 in North Carolina, he migrated to the west and had a legendary life which you can read about on Wikipedia if you are so inclined. Fascinating bit of history which I enjoy. A friend requested a photo of Bill Williams Mountain which is named after the person as is the city of Williams, so I flew yesterday afternoon with the express purpose of getting the shot for him. Bill Williams Mountain is the westernmost of the Arizona volcanoes which tops 9,000' and is in the foreground of the image. To the left of it is the city of Williams and on the horizon from right to left on the horizon you have Mt Elden, San Francisco Peaks (including Humphreys Peak the highest point in Arizona at 12,637') Kendrick Peak and Sitgreaves Mountain. Anyhow it is a beautiful view and as for distances, it is a little over 30 miles from Bill Williams Mountain to Humphreys Peak. I was about five miles west of Bill Williams Mountain at a little over 10,000' when I took this shot.
"One" again occupied the keyboard and Wacom tablet in the wee hours and showed no sign of leaving, although she did show a propensity for opening and closing programs, and turning monitors on and off with a flick of her tail. I gave up and went to bed. Those who are dominated by felines will understand ... we do have to sleep sometimes and when we do, there are flesh eating predators loose in our homes ... it is important to keep them happy.
Have a terrific day and share a smile or two or three :+)
Cheers
Ted
More like this story