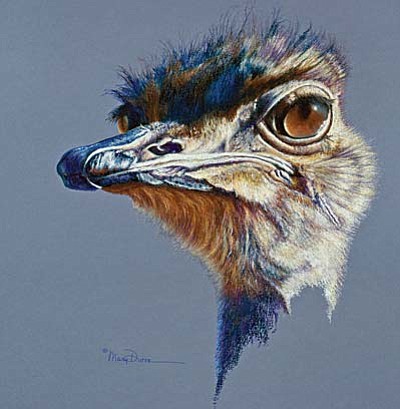 Originally Published: June 17, 2013 2:01 p.m.
The other day I sought out Mary Dove in her home in the Village of Oak Creek, set far back among gentle hills and imposing chunks of red rock that permit a cooling breeze to sweep down through the valley belying the late spring heat.
Framed in lush greenery, bright flowers nod from their beds. Mary points to a hydrangea whose pale blossoms glow with the radiance of unexpected color.
Pleasant it is to note her obvious delight and concern for this garden she has nurtured -- a magical transformation of arid desert to this easterner's eye.
As an artist, Mary Dove is one of the most capable and versatile in Sedona. If there's an area of realistic visual art you desire, seek her out. Her work is researched to the nth degree for accuracy of detail, perspective and architectural plan. We can count the blades of grass, every splinter in the shambles of wood on a crumbling southwestern ranch, the shadows in the arches of a majestic church. The artist's passes on a vivid legacy of this very paintable part of the world.
Look at the artist's bird and animal portraiture. Admirable for accuracy and color, these works give us much more. Note the penetrating intensity of the eye of a hawk in a recent oil pastel.
Here is the dynamic intensity, the innate animal energy that many an artist fails to achieve. The sheen of light on feathers that sweep back under the eye is as delicate and accurate as the downward curve of the beak. The artist has plumbed the depths of the avian world.
On another note, architectural structures in Mary Dove's watercolors unfailingly achieve accuracy. As an architecture major in college, her commendable desire is to save the history of vanishing structures. Yet here one sometimes misses the fluidity of line, looseness of imagination and emotional depth she achieves in the animal world.
In the past, from the works I have seen, Mary Dove made little use of the extended properties of water color, that is, to allow water to find its own path on the paper, blur color and create moody and ephemeral effects. What a delight to behold My Amaryllis in full Morning Glory #3, a recent watercolor that takes advantage of the looseness and special properties of watercolor -- carmine red flowing into yellows, dramatically contrasting with light-struck areas. There are shadows on the crenelated edges of petals and a softly blurred background of Payne's gray shading to light green.
Bravo! Mary Dove with all her experience and expertise in every branch of painting is developing and expanding her honed techniques to include the excitement and the fragility that is the essence of watercolor. In a work in her "Landscape and Flowers" series, the projecting branches of a dead tree outlined against a soft and blurry sky of primary colors create a mystical effect.
But my favorite of the many artworks by Mary Dove I've seen is a pen-and-ink drawing of a Rocky Mountain Bighorn Sheep, that reclusive and endangered animal. Total Realism with gusto! Here the artist is totally engaged. She is indulging in what she loves best. She recently entered this piece in the monthly online BoldBrush competition.
In the bighorn and other wild animal and bird drawings she reverts to an earlier style with masterfully detailed accuracy taken from photographs shot in the wild. Power flows from the gigantic curving horns of the bighorn, swelling large as the primary component of the painting, curving toward us like breaking waves. They are the animal's most characteristic feature, but as compelling in this animal portrait is the startling eye, as expressive as any human's. Behind, the ear is cocked, acutely alert to danger.
Bringing such reality of nature, such evident life to a pen-and ink drawing is mastery in itself. I find this area of work to be Mary's most exciting achievement. No matter how wide her dominance of the range of art possibilities, none of her work seems to me to rise to the emotional power of these pen-and-ink drawings, so similar to those she did in younger years. Here the artist's soul is engaged!
The same accuracy defines a recent oil pastel of an ostrich with dominant eye and beak thrusting mightily, almost accusingly at the viewer. The rigidity of the bird portrait is tempered with softly blurred front-face feathers.
In Mary Dove's youth her parents warmly supported her interest in the arts. She studied harmony, played the piano, as well as the organ in church. She had three great interests as a college student: sports, music and art. "A good time to figure out who you are!" she says. Fortunately, in the long run art won over.
"I have not wasted a moment of my time," she says. A ninth-grade teacher taught her perspective. In college she began with classes in architecture where she learned "perspective involvement" in a commercial illustration class. By sophomore year, she was taking art education as a major. She earned both a Bachelor and Master of Education Degree from Texas Tech University.
But, for Dove, college was a disappointment. "I was a better artist at seventeen than after college!" she says ruefully. In her home a small painting of fishing boats on the Texas coast dates to age sixteen, the same year that she painted a portrait of her mother.
After 30 years spent in real estate, Dove learned every aspect of that trade, retiring as a successful mortgage broker. Lately Mary has taken up photography.
Mary Dove's art works have won awards in numerous juried exhibits throughout Arizona. They are available at the Xanadu Gallery in Scottsdale and at shows of the Sedona Area Guild of Artists. Her artwork can be seen on line where prints can be ordered in many sizes and at many prices.
One wonders whether such widespread reproduction is the best use for and is worthy of this artist's fine original art. Viewers can arrive at their own interpretations of Mary Dove's art on her websites: www.marydoveart.com and www.mary-dove.artistwebsites.com.
Louise Sheldon MacDonald is a free-lance writer living in Sedona. She has been an art reviewer in Washington, D.C. and Baltimore MD for over 20 years.