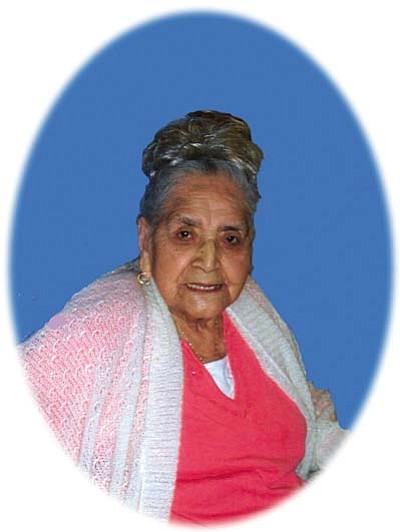 Originally Published: March 16, 2013 1:01 p.m.
Rosa R. Lucero, age 91, of Cottonwood passed away on Friday, March 15, 2013. She was born to Cornelio and Miciala (Tolentino) Ruiz on August 30, 1921.
In November 1938 she married her loving husband Santiago. Together they raised their four children in Flagstaff, Arizona. In 1977, Rosa and Santiago made their move to Cottonwood.
Rosa was a strong willed, independent woman who loved her family more than anything. She enjoyed cooking, cleaning, dancing, BINGO and going out to eat. She enjoyed her day trips to Laughlin with Santiago. She was known for her wonderful needlework. Rosa was a parishioner at Our Lady of the Immaculate Conception Catholic Church.
Rosa is preceded in death by her parents, her husband Santiago and her son Santiago David. She is survived by her daughters, Vera Baca of San Tan Valley, Maryann Lucero of Cottonwood and Jennie (Fred) of Cottonwood. She is also survived by her sister Amparo "Mary" Encisco (Emmanuel) of Cottonwood and brother-in-law Cecilio Trillo of Flagstaff; thirteen grandchildren; thirty-one great-grandchildren and four great-great-grandchildren; and many nieces and nephews.
The recitation of the Holy Rosary will be on Thursday, March 21 at Immaculate Conception Catholic Church, Cottonwood at 10 AM. The Funeral Mass will follow.
Interment and committal prayers will on Friday, March 22 in the Calvary Cemetery, Flagstaff at 10 AM.
An online guestbook is available at www.westcottfuneralhome.com.
Information provided by survivors.
More like this story