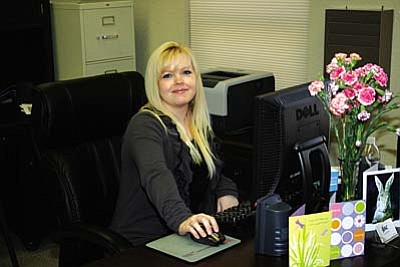 Originally Published: March 22, 2013 8:11 a.m.
Whether it's a start-up or existing business, home-based or small business owners in the Cottonwood area have many free resources available through the Business Assistance Center (BAC) in Old Town Cottonwood.
"We're here to provide the public with valuable resources to grow their businesses," said Andrea Harless, Business Service Representative for BAC at 821 N. Main St. in Cottonwood.
The BAC is sponsored by the Northern Arizona Council of Governments, Yavapai College and the City of Cottonwood. It is intended to provide resources, expertise, equipment and office space for home-based or small businesses.
Harless said some of the services available include business assessment and planning, business skills development and leadership development.
State-of-the-art tools are also provided. The BAC has broadband and Wi-Fi Internet access, online communications software, laptop computers and video conferencing capabilities. Also available at BAC are fax machines, copiers, phones and printers, as well as a 44-inch video monitor and a large projection screen and projector.
BAC offers many workshops such as how to start your own business and how to maintain your own business. Many other workshops are offered throughout the year. Some of the popular workshops cover developing a Website and using social media for your business. Several workshops are offered in grant writing, customer service, Quick Books and business marketing.
Workshops in Microsoft are common, covering just about every program useful to business owners. Those include Excel, Word, Outlook, and PowerPoint. Classes require a minimum of five participants. But Harless says her classes are now "full to overflowing."
Harless said BAC services are open to all types of businesses. "It could be any type of business," she said. "Some people just have an idea and might not have a clue what to do."
She recommends starting with a visit to BAC. "The first step is to sit down with one of our business counselors," That is a private session with a person well experienced in business.
"If you don't have a business plan, they will set you up with resources," Harless said.
BAC will connect a new businessperson with someone who is knowledgeable in the type of business being considered.
"They have many connections to valuable resources," she said.
Harless said some new business owners who work out of their home do not have computers and other necessary equipment. Those are all available at BAC.
Conference rooms may be used for staff meetings and presentations or for interviewing prospective employees or customers. The space may also be used just to get some work done. A room is available for meetings.
Harless said that BAC currently has office space available at the BAC office for short-term lease from six months to one year, ranging in price from $175 to $300 per month. Call for details.
The important thing is to not let the lack of start-up equipment, such as a computer, keep you from moving ahead with your business idea.
The resources offered by BAC are the equivalent of already having an experienced staff and the necessary equipment and office space to get a business off to a good start.
"It's nice to give people the tools they need to be successful," Harless said. "We're here to help businesses."
Call Andrea Harless at (928) 340-2740.