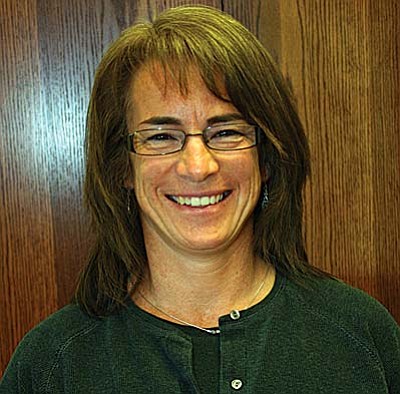 Originally Published: March 27, 2013 1:32 p.m.
COTTONWOOD - In June 2009, 48 states, including Arizona, collaborated on an initiative known as Common Core State Standards. The idea of the standards is to make it clear what is expected of students at every grade level.
The goal is to prepare all students to graduate from high school with the necessary skills for college or the workforce.
Beginning with the 2014-2015 school year, participating states will implement a test to assess students and schools in these skills for mathematics and English language arts. In Arizona, the test is known as PARCC for the Partnership Assessment for Readiness for College and Careers.
Local school districts have been planning and preparing for the implementation of Common Core for about three years.
"It's not just a switch we throw," said Mingus Union High School Principal Tamara Addis. "It's a process."
Deana DeWitt, English department head, said the transition to Common Core is a challenge for the students because the rigor is at such a high level.
"It's a big change," she said.
"For the past three years we've been working toward this change," Addis said.
DeWitt said she was excited about the Common Core initiative when she saw it coming. She started searching for resources on her own to help get her ready.
She said that in preparation for the implementation of Common Core, teachers working on a transition plan had to ask themselves, "What is the essential information we want the children to learn?"
Mingus Superintendent Tim Foist said Common Core is about exit level outcomes.
"Common Core will drive those outcomes," Foist said. "It develops both the student and the teacher."
Kathleen Fleenor, superintendent of Clarkdale-Jerome School District, explained that all of her district's teachers are either in the process of completing, or have completed, professional development training in Common Core Tier 1. She said the training has been provided by the Arizona Department of Education and by the Yavapai County Education Service Agency.
"Our district has already transitioned to Common Core for grades K-3," she said. "The other grades, 4-8, are in transition and will be completed by next year."
Fleenor pointed out that the main change is that some of the current academic standards have been moved to other grades either up or down.
"If you go in the ADE website you will see that in math, for instance, some of the former Arizona standards were moved from third grade to kindergarten," she said.
But, she points out, in eighth grade a few of the former standards were moved to high school.
"Basic learning in Algebra now starts in kindergarten," Fleenor said. "Common Core also goes much more in depth for student learning with students explaining their own learning."
She said Common Core also provides more in-depth writing and writing across the curriculum.
Fleenor said that a major problem now for the ADE is the PARCC assessment that will replace AIMS. She said that the PARCC assessment is on computer or iPad or some other Internet based system.
"Most districts and the ADE do not currently have the infrastructure to handle this massive amount of data at one time," Fleenor said. "This would be similar to everyone in Arizona filing their state income taxes on the same day at the same time."
A small group of teachers at Cottonwood-Oak Creek School District have been working for about three years on planning and preparation for the transition to Common Core. In recent months, this core of teachers has been working with other teachers in the district.
"Professional development is a goal of the district," said Superintendent Barbara U'Ren. "Common Core is such a huge shift."
Pat Osborn is the district's Common Core coach. "We've had ongoing training," she said.
"We are ahead of the curve," U'Ren said. "We've made a financial investment."
Shelly Zale, one of the Common Core coaches, said technology is going to be a very big part of Common Core.
"There is a huge investment in technology," she said.
U'Ren said the transition to Common Core means the district is still being assessed on AIMS.
"But we're making the shift to Common Core," she said.
Still required for current seniors and juniors
By Howard Fischer
Capitol Media Services
PHOENIX -- Arizona high schoolers may soon be rid of having to pass AIMS -- or any standardized test -- to graduate.
On a 41-17 vote, the state House on Tuesday gave final approval to scrapping the battery of tests, formally known as Arizona's Instrument to Measure Standards. While it has been administered for more than a decade, it has been a graduation requirement only since 2006.
HB 2425 now goes to Gov. Jan Brewer.
Matthew Benson, her press aide, said his boss wants to study the details. But he said that, absent some problem, she will sign the measure because it will help implement the new Common Core curriculum in Arizona schools.
"At the heart of Common Core is the notion of implementing more stringent internationally benchmarked standards,' Benson said. "She is 100 percent supportive of the concept.'
More significant, he said, will be a test linked to those standards, providing a way to see how well students here are doing in comparison with their counterparts in other states. By contrast, AIMS is an Arizona-specific test.
Vince Yanez, executive director of the state Board of Education, said AIMS remains a requirement for current seniors. And he said the board will keep it in place for those who are now juniors, many of whom already have taken the test which is first offered in 10th grade.
But sophomores will be AIMS-free. And, if the state Board of Education eventually agrees, they instead will be administered the PARCC test -- short for Partnership for Assessment of Readiness for College and Careers -- in their senior year.
Yanez said those tests in English and math will effectively serve as a final exam on what students are supposed to have learned. Yanez said while he would expect seniors to be able to pass PARCC, it would technically be possible for students who have otherwise good grades to be able to graduate without actually passing.
The new assessment process also will replace AIMS tests and Sanford 9 exams that are now administered in lower grades.
There was only some opposition during Tuesday's House debate to eliminating use of AIMS as a graduation requirement. What provoked controversy, though, is the question of what will replace it.
Potentially more disturbing some several lawmakers is their view that the Common Core curriculum -- and that nationally standardized test that will go with it -- is an improper intrusion by the federal government into an issue of strictly local concern.
Common Core, in essence, is a list of what students are expected to learn at various points in their education.
For example, fourth graders should be able to determine a theme of a story, drama, or poem from details in the text. And high schoolers should be capable of interpreting parts of a math expression, such as factors and coefficients.
Rep. Kelly Townsend, R-Mesa, acknowledged that the AIMS test has been "dumbed down' since it was first mandated as a graduation requirement for the Class of 2006. That was designed to keep large numbers of seniors from completing their education.
"But I'm even more embarrassed that we're just going to dissolve it and look to a national organization, saying, in essence, that we can't do it on our own, we're not qualified to do it on our own, so we're going to go ahead and ask the federal government to do it,' she said. Townsend said this will "put on teachers in the position of having to just go ahead and take orders as to what to teach, rather than to teach according to their local area.'
Rep. Carl Seel, R-Phoenix, said lawmakers have little information about PARCC.
"We don't know what that test is going to look like,' he complained. The details for how to put that together have been left to the state Department of Education.
The fears drew derision from Rep. Doris Goodale, R-Kingman, who has been a chief proponent of Common Core. She told her Republican colleagues who control the House that the idea of education reform originated with their spiritual hero, Ronald Reagan.
And Goodale said Common Core originated not from Washington but over many years from governors, school officials and others from around the nation to set standards for reading, writing and math.
"The value of the Common Core did not arise because somebody had an anchovy pizza late at night about two years ago,' she said.
Rep. J.D. Mesnard, R-Chandler, pointed out that students in lower grades in Arizona schools already are being taught according to the new curriculum. More to the point, they are no longer being taught according to the AIMS standards.
"If this (AIMS) test remains, we are going to be testing them on something that doesn't align with what's in their classroom right now,' Mesnard said.
"I will not do that to the kids of this state,' he continued. "I won't screw over the kids of Arizona to make some kind of political statement.'
But Rep. John Kavanagh, R-Fountain Hills, said lawmakers are giving up on AIMS too quickly.
He agreed it has been "dumbed down.' And Kavanagh said legislators have previously approved measures to let some student graduate even without passing.
Kavanagh argued, though, that scrapping AIMS at this point means "no accountability,' especially as the state Board of Education has yet to formally decide to adopt PARCC.
By contrast, Rep. Sonny Borrelli, R-Lake Havasu City, said he has no problem with eliminating AIMS, saying it has resulted in educators trying to "teach to a test' rather than using their own judgment to find the best ways to reach their own students. Nor did he think the state would suffer without such a test.
"We put a man on the moon without mandatory testing,' he said.
More like this story