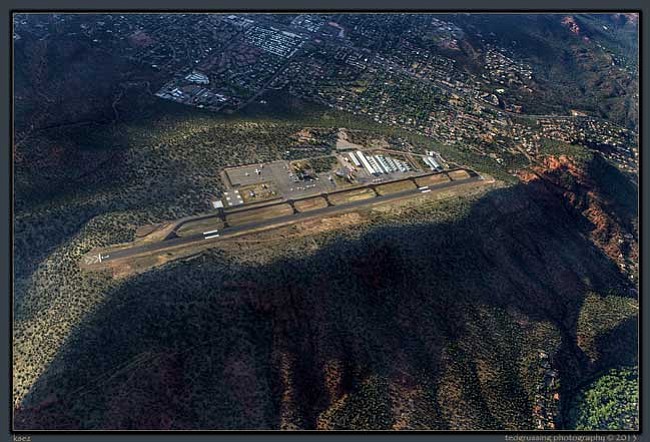 Originally Published: May 15, 2013 2:20 a.m.
... your average airport for sure, but one of the funnest airports in the country to fly in/out of ... this is KSEZ, Sedona Airport ... with everything from Gulfstream 5's to Piper Cub J-3's flying in and of it ... and gliders too. I first began flying out of the airport in my PW-5 Sailplane in first quarter 1997 after I had been flying sailplanes for a mere six months. I fell in love with the airport immediately and it has never waned. Our friend Elemer Katinsky gave me tows with his Rallye, and on numerous occasions another friend would tow and Elemer would join me in his glider and taught me a lot about cross country flying in gliders. Corky and I hosted numerous glider fly-ins at the airport and one year I think we had over fifteen friends flying their gliders out of the airport for a weekend. Those were fun times. We bought the Lambada Motorglider in 2007 as it was not always possible to get tows up here and the drive to Phoenix had gotten a bit old, particularly during the years when the commercial operations at Turf Soaring were closed and it was a three hour drive to the nearest airport I could get a tow. I gave up some performance as my HPH 304CZ-17 had a 48/1 glide ratio and the Lambada is 30/1 ... I fly when I want now and don't worry about getting back home ... provided the engine restarts :+) It was neat to see my 304CZ, AZ2 on the cover of Soaring Magazine last month; it is now in the very capable hands of my friend Paul Robinson who has set a number of record flights in it.
Anyhow, I took this shot yesterday afternoon whilst doing a shoot of the airport for the Sedona Airport Authority. I was about 8500' msl and the airport is at 4828' msl. In the lower right corner is Oak Creek which wends its way around the mesa on its way down to the Verde River. I am on the east side of the airport and you can see the precipitous drop to the creek some 600 feet or so down from the runway. Runway alignment is 3/21 which is the magnetic compass alignment rounded to the nearest ten; thus on the compass rose it would be 30 (NE) and 210 (SW). A portion of West Sedona is across the top portion of the photo.
Thought some of you might enjoy seeing the airport I fly out of, and heck I never get tired of it. Into midweek and it seems to be getting better every day.
Have a terrific day, make good things happen in your day and share the joy.
Ted
More like this story