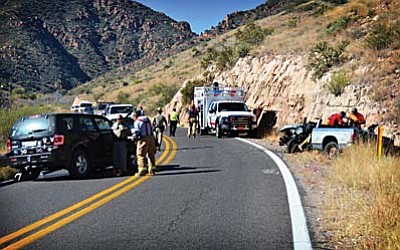 Originally Published: November 1, 2013 1:59 p.m.
JEROME -- A head-on collision just before 10 a.m. Friday sent two women to hospitals and closed SR 89A below Jerome for about an hour and a half.
The two drivers were hospitalized as the result of the head-on collision between a Chevy S-10 pickup and a Ford Escape SUV near MP 347 on the Clarkdale side of the old Mohawk station.
The most seriously injured occupant was the driver of the Chevy pickup who was trapped in the vehicle after the vehicle crashed into a rock wall. The roof needed to be cut away to free the woman. She was flown to the Flagstaff Medical Trauma Center by Angel-3 medical helicopter, which landed behind the Jerome Fire Station, after the woman was transported by ground ambulance.
Jerome Fire Chief Rusty Blair said airbags deployed in the SUV and the second woman was taken by a ground ambulance to the Verde Valley Medical Center.
Clarkdale Fire crews assisted Jerome Fire to clear the mess.
The State Highway was re-opened after 11 a.m. Friday.
More like this story