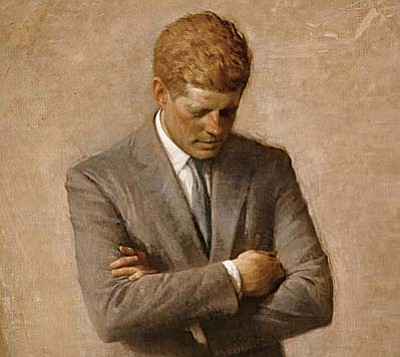 Originally Published: November 21, 2013 1:21 p.m.
Larry Johnson, Bucky Russell and Janie Smith.
I really should not remember those names. I was only 7 years old. It's probably the only thing I remember about that year of my life.
But 50 years later, I remember their names. I remember what I was doing Nov. 22, 1963. And, I remember much about what life was like in my home over the next four days.
It was a Friday, Nov. 22, 1963. It was the lunch hour. I was on the playground with Larry Johnson and Bucky Russell when a teacher came up to us holding Janie Smith's hand while she was crying insolubly. Before the teacher could say anything to us, Janie blurted out, "They killed the president."
"They killed the president."
Soon, the playground was deserted and we were all led to our respective classrooms. Some children were crying, but for the most part there was absolute silence. The principal's voice came over the classroom intercom confirming that President John F. Kennedy had been killed. School would be dismissed early. Our parents would come get us. Buses would run early.
I rode the bus, and as was the case back at school, it was a ride punctuated by silence. I heard one of the older kids on the bus ask another if he was going to be in the war. "They killed the president. There's gonna be a war."
I never was sure who "they" were, but I knew it was the same people who were responsible for the scare-tactic drills at school where we hid under our desks or marched single-file to hunker down in the school's basement.
They were out to get us and now they had killed our president.
Over the next four days, I stayed in the house with my parents and we watched our old black-and-white television set. We were like everyone else in the neighborhood, and probably the entire nation for that matter. Even for a little kid, it seemed dirty and disrespectful to go outside. You stayed in your house and watched TV for hours on end.
We saw Lee Harvey Oswald murdered two days later and I can still remember tears running down my mother's face while we watched the funeral procession a day later.
JFK was our first real television president. Both he and his wife, Jackie, had movie-star good looks and were perfect for television. Now, here we were watching him get assassinated over and over and over again. Watching his own assassin murdered and watching his funeral and his infant son salute his casket during the procession.
Somewhere along the line, life got back to normal. I would go outside again. I would go to school. And the fear of "they" seemed to go away.
But the JFK assassination has been with all of us ever since. It spawned the concept of conspiracy theory: grassy knoll, magic bullet, lone gunman doubters still abound today. If you Google JFK assassination, you will get about 364 million results. Amazon.com lists more than 2,000 books and movies relating to the murder of Kennedy.
In 1997, I visited the Sixth Floor Museum at Dealey Plaza, which in 1963 vernacular was known as the Texas School Book Depository. During the first floor of the museum tour you are given a taste of what life was like for the average American in 1963. The tour gradually ascends floor-by-floor through the building where you learn about the legacy of Kennedy's presidency and every detail about that day of infamy in November of 1963. It ends on the floor where Oswald shot the president. The exact area is in a glass-enclosed area. But less than five feet away, you can look out another window and see a modern-day view of what Oswald saw 50 years ago.
My own thoughts looking through that window perhaps were misplaced. I hope they don't come across as callous. But, I could not help but think that the distance and difficulty involved, even with a slow-moving target, did not require an expert's level of marksmanship. For whatever reasons, I had always believed it was a more long-range and difficult shot and Oswald therefore could not have been the single shooter. But when I stood there looking through the window, I believed the lone gunman theory.
At the same time, I certainly do not discount the conspiracy theorists. America, the entire world, was a dangerous place in 1963. The handling of the Kennedy murder investigation was anything but textbook. The quick-and-easy assassination of his accused murderer is difficult to fathom. Even if Oswald was the lone gunman, the manner in which this case was handled created a field day for conspiracy theorists. It's an industry unto itself that still exists 50 years later.
But this act left an even bigger question for Americans. The missing piece of the puzzle that remains to this day is the degree to which America was cheated out of presidential greatness. Had Kennedy never been murdered in Dallas, what would America's legacy be today as it applies to the decade-long war in Vietnam? Would America have been able to find a more peaceful resolution to the war zone we experienced in our own country known as the Civil Rights Movement? Would the assassination dominoes never have fallen and Robert Kennedy and Martin Luther King Jr. would still be with us today?
Would John F. Kennedy have become everything so many people believed?
More like this story