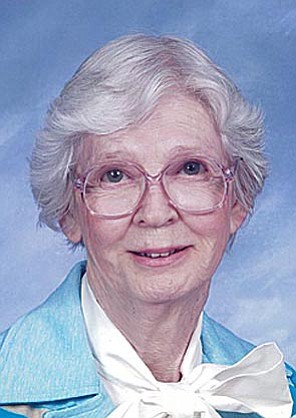 Originally Published: October 1, 2013 3:09 p.m.
Nellie Martin Gaskin was born to Elza and Beatrice Martin on August 13, 1927. She died in Cottonwood on September 29, 2013. She was valedictorian of her high school class in Jesup, GA.
After three years of college she married Kenneth W. Gaskin, a young preacher and college student. In 1952 they moved to Louisville, KY for Kenneth to attend seminary while he pastored a country church. After graduation, they moved with their two girls to Kansas, N. DAK, and then Arizona.
Kenneth and Nellie moved to Cottonwood in 1981 and he pastored 1st Southern Baptist Church for 7 years. Nellie always served as his right arm, teaching Sunday School and VBS and supporting him. Kenneth died in 1989, and Nellie continued her life devoted to her Lord and church.
She was an active member of Clarkdale Baptist Church. Nellie is survived by her daughters Sarah King (Steven) of Casa Grande, and Mandy Dial (Ken) of Glendale, four grandchildren and four great grandchildren.
Services will be Saturday, October 5 at Clarkdale Baptist Church at 2 p.m., with Pastor Harold M Boldin officiating. In lieu of flowers please make donations to Clarkdale Baptist Church.
Information provided by survivors.
More like this story