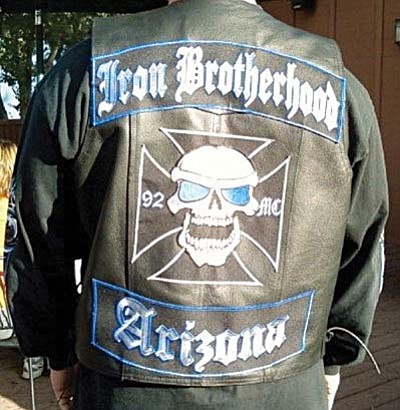 Originally Published: October 8, 2013 2:48 p.m.
PRESCOTT - The investigation into a Dec. 22, 2012 bar fight in downtown Prescott, which left 23-year-old Justin Stafford with facial injuries, is coming to a close.
Members of the Iron Brotherhood motorcycle club - composed of active and retired law enforcement and public safety employees - found themselves the targets of a Department of Public Safety investigation that ultimately recommended a number of charges.
After a lengthy review of the case, the Maricopa County Attorney's Office charged Phoenix police officer Eric Amato, who went by the club moniker of "Guido," with one count of assault in September. Charges were filed with the Yavapai County Attorney's Office, according to Maricopa County Attorney's Office Spokesman Jerry Cobb. Amato has a preliminary court date Thursday, Oct. 10, in Camp Verde.
No charges were filed against other individuals involved in the fight.
The incident began during a club Christmas party on Whiskey Row. During the evening, Stafford and members of the club had an argument that led to a physical confrontation. Stafford was later transported to the hospital for treatment of his injuries. A subsequent Prescott Police Department investigation into the fight alleged that then-Prescott Valley Police Chief Bill Fessler - "Tarzan" - and former Partners Against Narcotics Trafficking Sgt. Bill Suttle - "Mongo" - opted not to provide details to police that could have aided in their investigation.
"We've reviewed the investigation that was submitted to us on the Iron Brotherhood and filed one misdemeanor count against a Phoenix police officer who was involved. This was the only charge that was filed following a review of the case," Cobb said.
He did not say other charges couldn't be filed in the future, if additional evidence appears.
Arizona Peace Officers Standards and Training (AZPOST), the licensing body for peace officers in the state, is currently reviewing the various internal investigations pertaining to the Iron Brotherhood incident, and will be following the upcoming Amato court case. AZPOST certifies police officers, deputies, highway patrol and other forms of law enforcement, according to Executive Director Lyle Mann.
"We're reviewing the investigations to see if there's been violations of our rules," Mann said. "Some might apply and some might not apply."
The Arizona Department of Public Safety (DPS) released its report on the incident in April. Those findings were subsequently handed to the Maricopa County Attorney's Office, which completed its review earlier this month.
The original DPS report recommended charges of felony obstruction of criminal investigations and misdemeanor charges of false reporting to law enforcement be filed against Fessler and Suttle. Other charges included possible misdemeanor and disorderly conduct charges against Amato, and Ajo Ambulance paramedic Gregory Kaufmann, - "Top Gun." Ajo Ambulance did not respond to inquiries about Kaufmann's current employment status.
Amato and Kaufmann, according to the DPS report, threw punches during the incident. Charges of disorderly conduct also were originally recommended against Stafford.
The bar fight wasn't the first incident involving Stafford and authorities. In 2009, he was cited for underage drinking after an incident with another man, Andrew Goodall, who was arrested for carrying an IED (improvised explosive device) in the trunk of his vehicle.
A number of law enforcement and emergency response personnel faced internal investigations, or resigned, with their various employers following the incident:
• Cpl. Tyran Payne resigned from the Prescott Valley Police Department in August.
• Prescott Valley Police Department Cpl. Jason Kaufman received a week off without pay, six months of disciplinary probation, and a written reprimand.
• Fessler announced his retirement as Prescott Valley Police Chief in March, citing controversy related to the incident. Fessler was president of the Whiskey Row Iron Brotherhood chapter before stepping down from the organization in late December.
• Suttle was placed on administrative leave and subsequently resigned his position.
• Capt. Marc Schmidt, an executive YCSO staff member, also resigned.
• YCSO deputy Mark Boan, fired last May in connection with his conduct during the DPS investigation, appealed his firing in July. The appeal board ultimately upheld his termination.
• DPS Spokesman Bart Graves said DPS Officer Bryce Bigelow has been terminated.
While many have resigned from the Iron Brotherhood Whiskey Row chapter, there are no indications the organization has officially dissolved. Inquiries to the National Iron Brotherhood were not returned as of press time, but the club's website shows no chapters in Arizona.