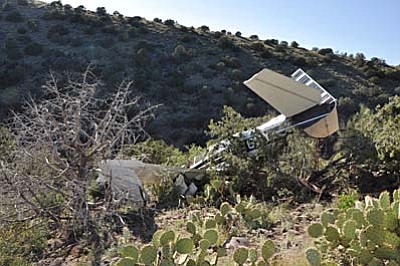 Originally Published: October 10, 2013 8:58 a.m.
Three people were injured in a Sedona airplane crash Tuesday.
According to Sedona Police Department Sgt. Lucas Wilcoxson, at about 2:38 p.m., a single-engine airplane crashed on the south side of the Sedona Airport.
According to the pilot, Moritz Konrad, he was attempting to land at the airport but was unable to because the airplane was "hopping" on the runaway. He decided to take off again and come around the airport to attempt to land on the runway again. As he was attempting to take off again, he was unable to get the lift he needed and crashed on the south side of the airport.
There were three people from Germany involved in the crash. One person received minor injuries and the other two people were transported to the Flagstaff Medical Center with major but not life threatening injuries.
The other two people involved in the airplane crash were Florian Riedl and Joern Boattcher.