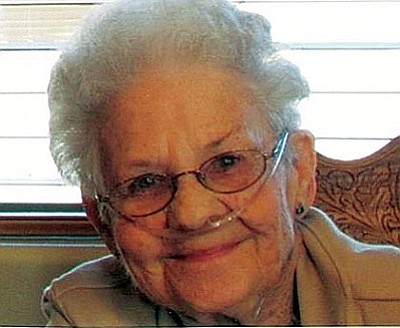 Originally Published: October 15, 2013 1:48 p.m.
Elizabeth Huls was born August 12, 1930 in Tucson, Arizona to Charles and Ann Egleston.  
She passed away in Ketchum, Idaho on October 1, 2013.  
In 1966 Mountain Bell Telephone Company transferred husband Harold Huls from Tucson to the Verde Valley.  
Elizabeth's first job in the Verde Valley was the teller for First National Bank in Clarkdale, where she met many wonderful people.  
They moved to Prescott for a few years and then back to Camp Verde until returning to Tucson, the town Liz called home.  
She is survived by her daughters, Becky (Jim) Randall of Cottonwood, Carolyn (Charley) Reimann of Idaho and Donna Jensen of Tucson, 11 grandchildren, 23 great grandchildren, 2 great great grandchildren, her sister Ruth West, sister in law Dorothy Egleston and numerous nieces and nephews. Elizabeth was preceded in death by her husband of 63 years, Harold, twin daughters Deborah and Dorothy, her parents, two brothers, David and Phillip, and sister May.  
A private family service is being planned.
Information provided by survivors.
More like this story