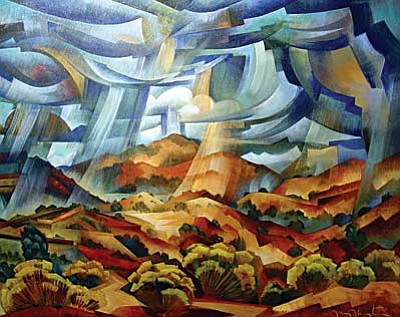 Originally Published: October 21, 2013 9:58 p.m.
Sedona's week-long Plein Air Festival offers an exciting after-party this year that is open to everyone at no charge at all. Saturday, Oct. 26, is the final public sale day to purchase festival art and at 4 p.m. that day art lovers are welcome at Lanning Gallery and Turquoise Tortoise Gallery (at Hozho in the heart of the Gallery District) for wine and hors d'oeuvres.
Both galleries played an important role with the festival this year as prominent Navajo artist Tony Abeyta, represented for decades at Turquoise Tortoise Gallery, is the focus of the festival's final Native American Legacy event: Abeyta gives a talk and digital presentation on "Ancient Questions and the New Face of Native American Painting" on Thursday, October 24 from 5-7 p.m. (visit www.sedonapleinairfestival.org for ticket information). Abeyta will be presenting awards for the festival earlier that day.
The artist is well-known for his powerful contemporary paintings that draw from his Navajo heritage while capturing a bold universal feel. His palette is one of rich colors and textures as he combines his oil paints with sand, encaustic wax, copper and printmaking. "Painting for me leaves no stone unturned within its context," he says. "I experiment with images, techniques and mediums, translating paint into an image both personal and spiritual."
Lanning Gallery's artist Marshall Noice is one of the thirty artists juried in from across the country to paint en plein air during the festival. The dynamic Montana artist can be found painting in the Sedona area through Friday. His works will be displayed at Lanning Gallery during the festival's after-party. Noice is known for his high chroma paintings where a literal description of landscape is, as he puts it, "not high on my list of priorities." Noice goes on to explain: "My paintings are made in response to things I see in the natural world. They capture a place at a particular time. And they capture a moment in my sensibility. My overriding goal as a painter is to create a work, an artifact if you will, that resonates with the spirit of the landscape that inspired me."
Festival goers and others who wish for the opportunity to spend time with Tony Abeyta and Marshall Noice can enjoy their company at this after-party. Plan to stop in 4-7 p.m. Saturday to enjoy the joint reception in their honor and honor the close of another exciting Plein Air Festival.
Visit Facebook for photos: Facebook.com/LanningGallerySedona or /TurquoiseTortoiseGallerySedona. Lanning Gallery, (928) 282-6865, www.lanninggallery.com. Turquoise Tortoise Gallery, 282-2262, www.turquoisetortoisegallery.com; at Hozho, 431 State Route 179, Sedona.