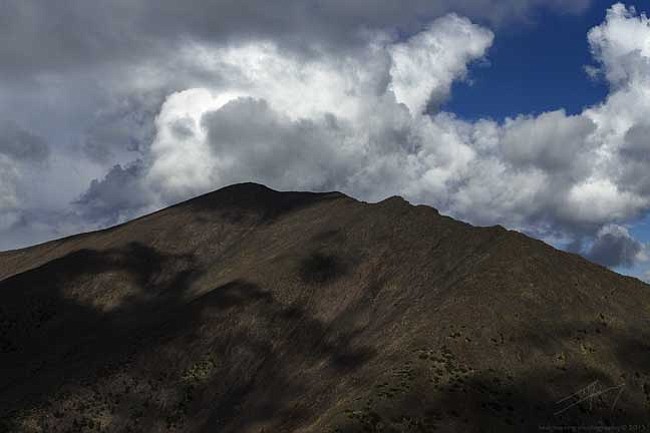 Originally Published: September 14, 2013 2:24 a.m.
While waiting for the Andersons to replace a faulty switch that operates the lift for the van I spent my idle time flying up to the peaks and playing around relatively low clouds. One has taken over my Wacom tablet so I needed an image that required no work other than adjustments I can do with key strokes so here is a shot of the upper reaches of Humphreys Peak, the tallest of the San Francisco Peaks at 12,637' MSL and it is also the highest peak in Arizona.
After I shot this I ducked in close to the peaks and rode the orographic lift up to and above the peaks. The clouds were also working pretty good today and all in all it was a fun flight. Then back to Sedona, put the plane away and walk over to the restaurant and wait for the van to be finished and be picked up. Once again the lift is working as it should (needed to put the aluminum ramp together at the Hilton last night) and home to get Corky and off to the Wildflower Bakery for dinner.
Later this morning Corky and I will go flying, over to friends and Sunday, Church, lunch at the Market Place Café and who knows maybe more flying. Corky is pretty wrung out at the end of the day, but is enjoying it. Once ended all opportunities for a day are closed out and then a new one comes with a myriad of choices to be made ... choose well for they determine who we are and where we find ourselves the next day and beyond. Seek beauty.
Back Monday morning and hope your weekend is all you wish it to be.
Smiles
Ted
More like this story