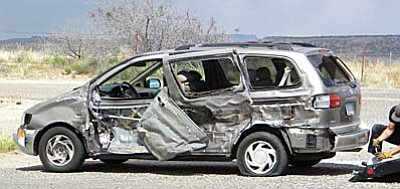 Originally Published: April 3, 2014 9:37 a.m.
CAMP VERDE--Two vehicles collided just after 1 p.m. Wednesday, between Horseshoe Bend Road and the intersection with old Highway 260. The accident involved a white Chevy pickup and a grey Toyota minivan. The crash blocked traffic, which was diverted around Old Highway 260.
A Camp Verde officer said that the two vehicles were traveling in opposite directions, when the pickup drifted across the centerline for some reason and sideswiped the minivan.
The driver of the minivan was flown to Flagstaff Medical Center for observation.