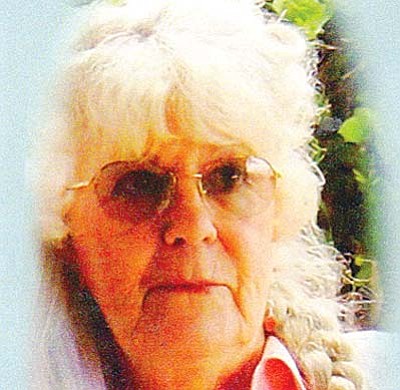 Originally Published: April 15, 2014 1:46 p.m.
Daphne Coppinger, 81 of Camp Verde, passed away on April 7, 2014 at home.
She was born on January 12, 1933, in Browder, Kentucky to Clarence and Mary Gamblin.
Daphne was self employed in Real Estate. She belonged to Jehovah Witness. She enjoyed writing poems, riding horses and drawing.
She loved her children, grandchildren and all children but most of all she loved serving her God Jehovah by teaching people the Bible.
Daphne was preceded in death by her husband Arthur Coppinger and son Damon Combs. She is survived by son Paul Sandy of Cornville; daughter-in-law Loretta Combs of Camp Verde; brother Lindle Gamblin (Janice) of Kansas; sisters Delila White of Cottonwood, Frieda Williams (Jim) of NM and Myrna Dierenfield (Don) of CA; 5 grandchildren and 12 great-grandchildren.
A memorial service will be held on Saturday, April 19, 2014 at 2:00pm at the Kingdom Hall, 1310 S. State Route 260 in Cottonwood.
An online guestbook is available to sign at www.westcottfuneralhome.com.
Information provided by survivors.
More like this story