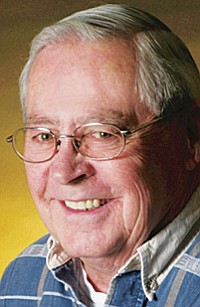 Originally Published: April 19, 2014 12:23 p.m.
Roger J. Pfeifer, 72, of Cottonwood, was called home to be with our Heavenly Father, April 17, 2014, in Cottonwood.  He was born in Hinsdale, IL March 29, 1942 to Jerry and Ruth Pfeifer.
Roger graduated from St. Procopius High School in Lisle IL. in 1960. He attended the General Motors Vocational Training Center graduating in 1961.  He then enlisted in the US Air Force and attended the Air Training Command in 1962 graduating as a Reciprocating Engine Mechanic, and later graduated training becoming a jet engine mechanic for the F4 Phantom Jet.  He served in the US Air Force from 1962 until 1968 where he rose to the rank of SSGT.  He relocated his family to the Verde valley in 1968 and enlisted in the US Navy becoming a SEABEE.  Roger served a tour in the Republic of Vietnam from 1969 until 1970.  The Republic of Vietnam meritoriously awarded him a commendation for his outstanding performance while helping the Vietnamese people during his tour.  His medals include the National Defense Service Medal, Vietnam Service Medal with one Bronze Star, Republic of Vietnam Campaign Medal, and the Navy Commendation Ribbon.
Roger rejoined his family in Arizona after his service and worked for several sanitation services and later served as the solid waste specialist in Yavapai county until 2002.  Roger then worked for Phoenix Cement until his retirement in 2004.   
Roger cherished spending time with his family and enjoyed boating on Lake Powell.  He is best known for his great smile, wonderful hugs, and selfless service to his community.  Roger's hand was always there first in the moment of need and the last to leave in moments of comfort.  
This list is not intended to be fully encompassing.  It's been said that you can't swing a cat by the tail without hitting a family member or someone who feels like a family member.
Roger was preceded in death by his parents Jerry and Ruth Pfeifer, siblings Bud, Johnny, and Theresa Pfeifer.
  Roger is survived by his wife of 35 years, Karen Pfeifer, his sisters Mary Arrigo (Sal), Ruth James, Dorothy Bell, Penny Garside (Keith), Patricia Pfeifer, his sons James Pfeifer (Leslie) and Thomas Eidschun (Michelle).  Daughters are Angela Davis (Bill), Denise Rodriguez (Ruben), Stephanie Kelley, Mary Ann Lodmell (Steve), and Susan Ames.  His grand children are Jessica Vocca (Frank), Tia Taber (Steve), Sean Ames, Kalyn Dukes, Bradley, Brian, and Holly Eidschun, Torie and Allie Parrish, Charles, Mark, Jo Marie, and Grace Davis, Heather Pfeifer, Alexis Easlick, Ethan Warner, Stacey and Ryan Kelley.  Great grand children are Marissa, Mia, Colter, Nikki, Bailey.  Extended family is Gary, Lisa, Leah, Derek, Danielle, Darci, Kylee, Easton, Reagan, Zane, Stevy, Rider.
A memorial mass will be held on Saturday, April 26, 2014 at 9:00am at Immaculate Conception Catholic Parish, 700 N. Bill Gray Road in Cottonwood.
An online guestbook is available to sign at www.westcottfuneralhome.com
Information provided by survivors.
More like this story