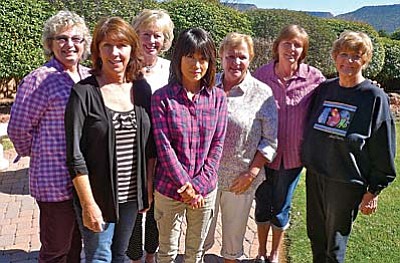 Originally Published: April 30, 2014 10:26 a.m.
Go team, go! Golf is not usually viewed as a team sport, except when we see the Ryder Cup, the President's Cup or the Solheim Cup on TV. The best players on each tour are selected to play in these competitions. It's prestigious to make the team through a points system or to be a "captain's pick."
Locally we have team play too, although it's not well publicized. There are eight Northern Arizona clubs that field women's teams and compete during a spring-summer-fall season. Oakcreek is one. For team play the four best players (lowest handicappers) from each club represent their clubs.
Two 2-woman teams from one club play against two 2-woman teams from another club. For each hole there is a gross point winner and a net point winner. At the end of the season the club with the most match points wins the trophy and a small monetary prize.
In recent years Oakcreek has consistently placed at the top or near it in the overall team competitions -- often beating out Antelope Hills, Elephant Rocks, Prescott Lakes, Verde Santa Fe, Quailwood, Stoneridge, Talking Rock. It's a testament to the skills and competitiveness of our local players, and also to the OCC Ladies League that supports the team. For it isn't only the lowest 4 handicappers who play on team, but the lowest handicappers available to play on a given team play day, who play.
During busy vacation periods the team captain picks from higher and higher handicappers in order to field a team (a 25 handicap index is the max allowed). Team competition provides incentive for women golfers to work on their games and lower their handicaps.
How local team play differs from the pros' is that our players pay their own expenses: host club green and lunch fees plus transportation costs.
The OCC women's league contributes a small portion of those costs and applies any year-end winnings to team expenses. So it's not inexpensive, glamorous, or televised, but a hard-earned honor to play for the home team. Let's cheer them on.