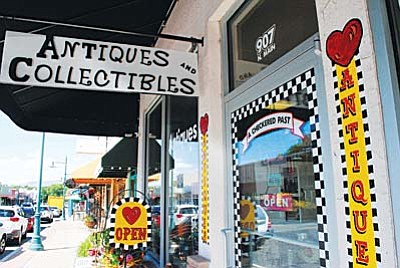 Originally Published: August 16, 2014 1:16 p.m.
National Thrift Shop Day is America's unofficial-yet-widespread holiday for being thrifty. Set for Sunday this year, many shops around the country have been celebrating all weekend.
The Verde Valley Habitat for Humanity ReStore was one such shop, offering a 30 percent discount on Friday and Saturday to offset its lack of Sunday hours.
There are at least six charitable thrift shops in Cottonwood that have an impressive display of treasures, but from the Old Town Mission store to the Paw Boutique, their doors are closed Sundays.
This Sunday shopping list expands on the National Thrift Shop Day's typical array of charitable and secondhand organizations to include four pretty nifty antique stores in Old Town Cottonwood.
Goodwill
Address: 1500 E. Mingus Avenue
Phone: (928) 634-5942
Sunday Hours: 9 a.m. to 6 p.m.
About: This is a no-brainer and neighborhood favorite. They have daily deals all week long on colored tags, a wide selection of clothing sizes, and a library that almost always has a high school English classic.
Website: Goodwill.org
Papillon Antiques IIAddress: 1004 N. Main Street
Phone: (928) 649-1649
Sunday Hours: Noon to 5 p.m.
About: This deceptively big antique shop has rooms full of antiques that represent the owners' taste for whimsy. Shelves of tattered books brush the bottoms of coats in classic cuts, and home knick knacks glitter from shelves and tabletops.
Cat's Meow
Address: 926 N. Main Street
Phone: (928) 649-9906
Sunday Hours: 11 a.m. to 4 p.m.
About: Owner Judy Scharfencamp's shop personifies her business's motto, "The fun starts here." The shop shelves are lined with a mix of vintage and hand-crafted new that stretch back into rooms filled with more of the same.
A Checkered Past Antiques
Address: 907 N. Main Street
Phone: (928) 634-8886
Sunday Hours: 11 a.m. to 4 p.m.
About: More than just an antique shop, the team behind this enterprise includes a certified appraiser and veteran antique dealer, Peg Sarkisian. Sharon Smoot makes up the other half of a duo that provides retail space for 18 dealers and their eclectic inventory.
Website: www.acheckeredpastantiques.com
Larry's Antiques & Things
Address: 796 N. Main Street
Phone: (928) 639-1822
Sunday Hours: 10 a.m. to 4 p.m.
About: Larry's sign facing Main Street boasts two acres of antiques, and it certainly feels that way walking through. Four buildings and a two-story hay barn are filled with varied pieces of history, from old license plates to pink antique stoves.
Website: www.larrysantiques.com
More like this story