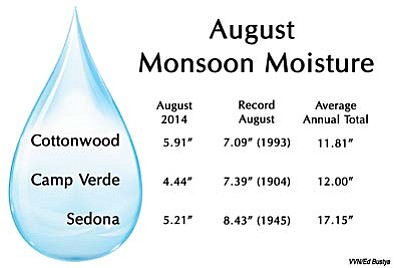 Originally Published: August 31, 2014 7:38 a.m.
VERDE VALLEY -- 2014 was a busy monsoon season in the Verde Valley. The National Weather Service, which monitors the weather station at Tuzigoot National Monument, reports 5.91 inches of rainfall fell in August.
That is nearly three times the average of 2.02 inches that the Verde Valley normally receives in August. The August total for the Sedona Airport was 5.21 inches; again, much higher than the monthly norm of 2.13 inches.
The Upper Verde rainfall represents about half the region's annual rainfall of just under 12 inches.
Camp Verde, which averages 2.18 inches in August, doubled its rainfall counts, recording 4.28 and 4.4 inches at two recording stations.
Cory Mottice, meteorologist at the Flagstaff Weather Office, said the bulls-eye for the 2014 monsoon season has been the Prescott area, which has now received 73 percent of its annual precipitation during the first eight months including 13 inches so far this monsoon season. By comparison, Page is not so lucky. It has received only 40 percent of its average precipitation to date.
Mottice said this monsoon has benefited from the frequent tropical storms that have sent moisture into Arizona, but most of all, the weather can thank the regularity in which a high pressure system has set up over the Four Corners region drawing moisture into the state from Mexico.
More like this story