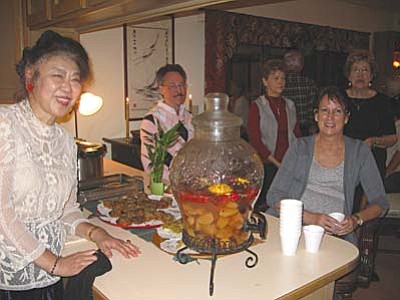 Originally Published: December 26, 2014 1:44 p.m.
Dr. Lily Chou delights the Sedona United Methodist Church choir with her Chinese specialties. She bribes the choir by saying, "you come to my house, I will make a simple supper and then we'll rehearse!" And of course we do and are delighted by her "simple menu."
Mulled apples, pears, berries, dates and lemons 4-5 hours in apple juice, water and spices
Phyllo shells filled with curried ground pork, onions and potatoes
Shrimp toast
Fried rice
Braised Beef with soy sauce, oyster sauce and daikon turnips
Cashew Nut chicken
Seaweed salad
Chip and dip, assorted nuts and dark chocolates
Flourless chocolate cake
Almond tofu gelled with green jasmine tea
Mixed fruit with lychee nuts.
It's always no problem. "You come over and I'll make egg rolls. It's so simple." We can't resist-Lily does it with ease and grace. How she finds the time, we don't know. She has had such an exciting, sometimes disruptive, life filled with hard work and determination fueled by a deep Christian faith.
As an accomplished world renowned concert pianist and an ordained minister, with all the time spent learning, teaching, practicing and performing, one wonders "how does she do it?" We've stopped wondering and have decided to enjoy her and her gifts during the time we have.
Lily was happy to write out her recipes long hand. The amounts of ingredients are not exact. We are certain the end product will be delicious.
BRAISED BEEF (crock pot recipe for overnight cooking for 20 people)
10 or more pounds of shank beef with bones, London broil and pot roast (combination allows for lean and fat for flavor) Meat will shrink upon cooking.
4-5 large onions, chopped
Enough oil to coat bottom of pan
Brown meat and onions
Place in crock pot
Make sauce of:
6 oz. soy sauce
¾ cup oyster sauce
4 inches ginger root, when peeled and chopped, 1/3 cup
4-6 cups rich chicken broth or enough to cover meat
Cook for 8 hours, first on high until bubbling, then on low.
Add
4-5 pounds of daikon turnip, peeled and chunked
1 tablespoon (or 5 star shaped nuggets) of Chinese Five Spice
Cook for 2-3 hours more on low, removing a cup or two of gravy from time to time to keep from overflowing. Save, defat and use for other recipes.
Before serving, break apart large chunks of meat to bite size.
Serve with rice. Enjoy! Thanks, Lily!
Bites and Sips
• With some friends, Suzie checked out the opening day's lunch at Pura Vida Latin Cuisine @ 1370 W. SR 89 A STE #14 (formerly called Fields.) Chef Diego E. Bolanos has changed the name, décor and menu to reflect his Costa Rican lifestyle. We obtained a VIP card entitling us to 10% off each meal and lunch on PVLC after 9 visits. Thank you! And we're still hoping you open for breakfast!
• An advertisement in Kudos states " DiLuca is Back... Coming Soon Bella Vita Ristorante." What could this mean? Where will it be? New Year's surprise!
• Shannon Jakes, Spanish teacher at Verde Valley School, brings to the campus innovative ways for her students to experience meaningful language learning. Shannon arranged through Suzie for some adult English language learners to demonstrate recipes in Spanish to her students. It was fun for Suzie to be present at one of the demos.
• Tamale making has been in full production at The Dunnery. While Jeff and Suzie have worked together making exceptional Tamale de Elote over the years, Suzie has branched out into other types of tamales (Thanks, Morna for introducing Suzie toMarcella Villadolid), tamales that have different sauces (Thanks, Dev, for the tomatillos) and different mixing and steaming methods (Thanks, Elise. Have mastered the use of the pressure cooker!) What fun for a group activity...with some prep!
To your Health and Happiness in 2015.
Jeff and Suzie at The Dunnery.
More like this story