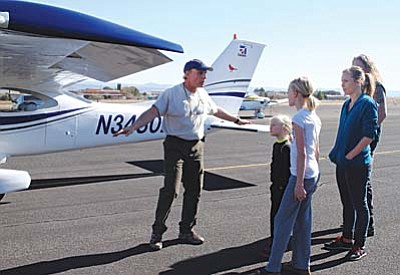 Originally Published: February 18, 2014 1:27 p.m.
Sibling Nigel grinned at the small black radio in his hands as he heard Jade Simpkins make her first broadcast as an airplane pilot. 
The 10-year-old fifth grader at the Clarkdale-Jerome School and 30 of her peers were given the chance to fly a plane after cracking librarian Linda Howard's trivia question about historical aviator Amelia Earhart.
CJS teacher Brian Lewis organized the flyover and photo of every student spelling out the school's initials earlier in the school year. Through EAA, he and plane owner Dale Williams are donating their flight time and fuel to give each child a free trip to Camp Verde and back.
As a schoolteacher, Lewis said he likes being able to tie in science, technology, engineering and math, or STEM.
"This is real-world science, technology, engineering and math, so this fits in perfectly," Lewis said. "It's fun to get to watch the kids light up when they take off."
Howard said she uses her own travels as the basis for the clues kids piece together, including Earhart's career accomplishments and the month and year of her marriage.
Last year, Howard traveled to Washington state, so students were given clues to the Twilight books and won small prizes for guessing correctly.
"But this is way cooler," Howard said. 
Knowing about the EAA Young Eagles flight program, Howard tied in the question and prize with the library's math theme for the year. 
Trivia winner Shelby Link took her half hour in the air Monday morning as well. She said Lewis helped her with the foot pedals, taught her to steer the small plane and let her be the one to pull up on the wheel, bringing the plane into the air. 
"Mainly it was all you, it was awesome," Link said. "If I could do it again, I would."
Reach the reporter on Twitter @ymgonzal or on Instagram @VerdeValleyNews