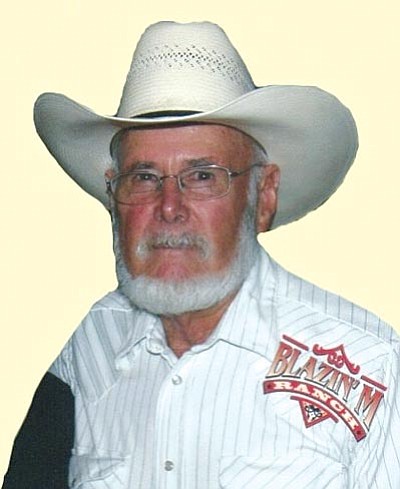 Originally Published: January 7, 2014 2:30 p.m.
Stephen "Steve" Ward Harris, 73, was received into his Savior's arms Friday, January 3, 2014. He is survived by his loving wife of 33 years Lyn; his children Merritt, Hale, Crystal (Lenhart), Jill (Hoyt), Renee (Breidenbach) and Windy (Mickle); 17 grandchildren and 11 great-grandchildren; one brother, Richard and two sisters, Donna (Yeager) and Carol (Worden).
Steve was born December 4, 1940 at the Midwife's house on Main Street in Clarkdale to Phil and Elva Harris. He was raised in Camp Verde and attended school in Camp Verde and Flagstaff where he graduated in 1958. He attended Sheridan College in Sheridan, Wyoming.
He married Loretta (Steyart) Harris in 1969 and helped raise her 4 children: Merritt, Hale, Crystal (Lenhart) and Jill (Hoyt). Loretta passed away in February 1980. Steve married Evelyn "Lyn" Harris in August 1980 and adopted her two daughters.
He was a working cowboy for 25 years, working ranches in Arizona, Montana, Washington and Wyoming. He owned and operated a fencing company, sold real estate, owned and operated a restaurant and was president of the Full Gospel Business Fellowship International for several years. He was president of the Verde Valley Horseman's Council, a wrangler for the RVR trail ride, he worked on the Yavapai County Trails Committee and the Verde Front with Prescott National Forest.
He invented the Porta-Flex Safety Round Corral, which created many opportunities for him to travel across the United States, Canada and Europe teaching his "Touch of Love" method of training horses. His motto was: "Teaching people to communicate with their horse, so that they might be able to better communicate with others and that some might communicate with God." He recently worked at Southwest Academy in Rimrock.
Steve never met a stranger; he was always making friends and sharing his love of the Lord with everyone.
Services will be held on Saturday, January 18, 2014 at 10:00am at Emmanuel Fellowship Church, 1580 E Fir St, in Cottonwood.
An online guestbook is available to sign at www.westcottfuneralhome.com.
Information provided by survivors.
More like this story