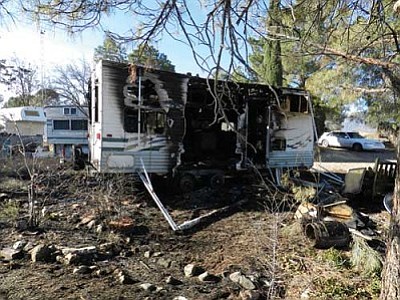 Originally Published: January 25, 2014 4:04 p.m.
COTTONWOOD -- Fire crews from the Verde Valley Fire District and Cottonwood Fire Department were dispatched to a trailer fire with fire spreading to a nearby mobile home on Wednesday night. The Yavapai County Sheriff's Office was also on scene.
About 10:45 p.m., arriving crews from Engine 311 from VVFD found a 25-foot travel trailer fully involved with fire spreading to nearby pine trees and dried grass that burned next to the mobile home. Two CFD engines also joined in the firefight.
The trailer was occupied by a man who was sleeping. He smelled smoke and got out of the trailer safely. This fire started outside the travel trailer, catching the tires on fire and spreading into the trailer.
The cause of the fire is still under investigation with an electrical short in a very long extension cord or possible discarded smoking material as possible ignition sources. Total dollar loss is estimated at $10,000-$12,000.
There was no damage to the mobile home on the property.
Verde Valley Fire District would like to remind everyone to clear all dried grasses and brush away from RV trailers, sheds and from around your home in case there is an accidental grass fire so it won't spread to structures.
More like this story