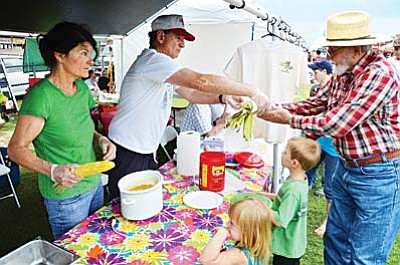 Originally Published: July 17, 2014 2:43 a.m.
CAMP VERDE - At its core, the Camp Verde Cornfest is about corn. Sweet, succulent, delicious corn.
But Cornfest is not just about corn.
Going strong for 23 years, Cornfest is Camp Verde's annual summer celebration, bringing folks together with food and drink, live music, old-time baseball, arts and crafts, contests, races and a plethora of cultural and agricultural history.
From 3 p.m. to 10 p.m. Friday, July 18 and from 9 a.m. to 9 p.m. Saturday, July 19, festivities will take place in downtown Camp Verde. Of course, corn will be the highlight of the celebration, with sweet, fire roasted Hauser's corn to eat and bags of corn to take home.
New to the list of entertainment is Corny's Corn Hole Competition, starting at 7 p.m. Friday in front of the stage on the soccer field. Nikki Miller of Camp Verde Promotions came up with the idea of the Corn Hole competition. She says the game is very much like horseshoes.
"But you don't have a pit, a stake or horseshoes," Miller says. "You have a board with a hole in it and three corn bags to toss. You receive three points for going in the hole and one point for staying on the board. If your competitor tops you, the points do not count."
Game ends when the first person reaches 21 points or the game reaches 20 minutes.
Live music is always an important part of Cornfest. And this year, festivalgoers will be able to listen to -and see - three live acts.
Cheap Sunglasses, fronted by Jack Couchman and Greg Williams, will take the stage at 5 p.m. Friday. Cheap Sunglasses is new to the area, so come listen to Camp Verde's newest band.
On Saturday, Steve Estes will play starting at 11 a.m. The Skunky Ron Big Band will take over at 5 p.m.
Much of this year's Cornfest entertainment is consistent from years past, such as tethered hot air balloon rides, WOW Bubble, beer garden ... and vintage baseball.
Hall of Fame baseball player Ernie Banks liked playing doubleheaders. Known for saying, "Let's play two," Banks would be pleased that Fort Verde State Park will host two vintage baseball games on Saturday at 10 a.m. and noon. Fort Verde and the Arizona Vintage Base Ball League will sponsor the twin bill, playing a brand of ball that was common in the 1860s. According to Fort Verde Park Manager Sheila Stubler, the Arizona Vintage Base Ball League will bring members from several of its teams to provide "a flavor of vintage baseball."
Stubler also says that the Arizona Vintage Base Ball League will use the games "as a tool to recruit more players" for the league. At press time, Arizona Vintage Base Ball League commissioner Lance Busch is looking for players to fill the rosters for Saturday's games. For more information, call Busch at (602) 750-5709.
Also on Saturday, Fort Verde will also have re-enactors in period clothing on site. Admission to Fort Verde during Cornfest is free. For more information about Fort Verde State Park, call (928) 567-3275 or visit http://azstateparks.com/Parks/FOVE.
For the second year, Cornfest will offer free birding excursions on Saturday. See and hear birds - and learn about the natural history of the Verde River, considered one of the premier birding venues in the southwest. Excursions will last approximately 90 minutes and will depart at 6 a.m. and at 7:30 a.m. from Rezzonico Family Park, located near the Camp Verde Community Library at the southwest corner of Montezuma Castle Highway and the Verde River at Black Bridge. Pre-registration is required. To pre-register or to request more information regarding these trips, call (480) 242-1996 or e-mail whiskycobra1@gmail.com.
Weather permitting, Saturday's hot air balloon 'rides' are tethered to the ground, taking balloonists in the air "high enough to see a long way," Miller says. Each ride takes about 10 minutes. "Just getting in the basket is challenging, and seeing the size of the balloon takes your breath away."
As always, Camp Verde Promotions eagerly seeks volunteers to help put on Cornfest.
"Since businesses benefit from these events and the people that come into the town for these events, we would like the businesses to show us their support by asking one of their employees to please represent them by donating two hours of their time to help this event be the best that it can be," Miller says. "Cornfest is the most labor intense event that we put on. We will make it a point to announce the businesses that have supported us throughout the event."
Last year, Cornfest sold 450 dozen ears of corn. Almost 200 dozen were roasted.
For more information about Cornfest, call (928) 301-0922 or visit www.campverdepromotions.org. To volunteer, contact Nikki Miller at (928) 592-9137, Bobbie Tennant at (928) 300-0179 or Nancy Floyd at (928) 567-5060 ASAP.
-- Follow Bill Helm on Twitter @BillHelm42 and Instagram @VerdeValleyNews