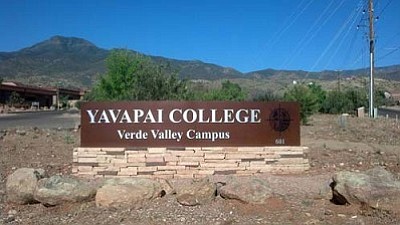 Originally Published: June 14, 2014 3:03 p.m.
CLARKDALE -- There's one month left for residents of the Verde Valley to take Yavapai College's survey, an effort to collect further constituent feedback on the school's future.
Governing board spokesman Herald Harrington said in a news release that the college wants to know more about how residents are engaging with what's being offered in their communities.
"We want to know if we're on the right track in terms of our goals, or "ends' as we call them, and how people are taking advantage of the educational, cultural and economic development programs that the college offers," he said.
The college has been dealing with push-back from members of the community who feel the Clarkdale campus isn't being given the opportunity to grow and offer meaningful programs to its population.
Former local educator Ruth Wicks and resigned board member Robert Oliphant have organized about 20 members of the community to explore creating a community college system that grants the Clarkdale campus a new level of autonomy.
When the two presented to the town of Clarkdale's council, they used the Maricopa Community College system as an example of how campuses could retain independence, especially in the budget process, while still operating under the same umbrella.
Yavapai College board members are set to learn about multi-campus community college systems in the state during their Sept. 8 retreat.
The survey closes at midnight on July 12. A link to the online survey can be found at yc.edu, and a hard copy can be obtained by calling (928) 717-7713.
Completing the survey also gets participants not employed by the college entered to win an iPad donated by the Yavapai College Foundation.
"Serving a district that stretches from Bagdad to Black Canyon City to Seligman to Sedona is a challenge, and we think it's vital that we get as much feedback as possible," Harrington said.
Follow the reporter on Twitter @ymgonzal and Instagram @VerdeValleyNews
More like this story