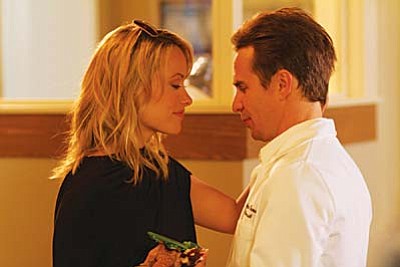 Originally Published: March 17, 2014 2:52 p.m.
The Sedona International Film Festival is proud to present the Northern Arizona premieres of "Adult World" and "Better Living Through Chemistry" showing March 23-27 at the Mary D. Fisher Theatre.
ADULT WORLD
An all-star cast is featured in "Adult World" including John Cusack, Emma Roberts, Cloris Leachman and Evan Peters.
"Adult World" is a satirical comedy about an eccentric young woman, Amy Anderson, (Emma Roberts) who has just come out of university, convinced she's going to be a famous poet. Saddled with debt and unemployed, she moves back in with her parents who force her to get a job. Desperate and armed with a poetry degree and not much else she takes the only job she can find, working in an adult book store called Adult World.
Meanwhile, desperate to get her poems published, Amy stalks an aging punk poet figure named Rat Billings (John Cusack), "one of the greatest poets of the early 90s." Rat reluctantly agrees to mentor her. As Amy makes new friends, including a drag queen named Rubia, the elderly couple who own Adult World, and Alex (the charming and quirky young manager) she learns that she might not be the voice of her generation after all.
"Adult World" will be shown at the Mary D. Fisher Theatre March 23-27. Showtimes will be 7 p.m. on Sunday, Monday and Tuesday, March 23-25; and 4 p.m. on Wednesday and Thursday, March 26-27.
BETTER LIVING THROUGH CHEMISTRY
An award-winning ensemble cast including Sam Rockwell, Olivia Wilde, Jane Fonda, Ray Liotta and Ken Howard are featured in the murderously funny dark comedy, "Better Living Through Chemistry."
A small town pharmacist's uneventful life is turned inside out when a chance encounter with a lonely trophy wife turns into a walk on the wild side.
Doug Varney (Sam Rockwell) is the model of suburban respectability-until the night he delivers a prescription to the home of Elizabeth Roberts (Olivia Wilde). Gorgeous, seductive and multiply addicted, Elizabeth eagerly introduces Doug to extra-large martinis, uninhibited bedroom behavior and the illicit pleasures of the pharmacopeia he has access to in his store.
Disregarded for years by everyone from his domineering wife Kara (Michelle Monaghan) and troubled son Ethan (Harrison Holzer), to the goldbricking employees at the drugstore he bought from his insufferable father-in-law (Ken Howard), Doug surprises himself by embarking on an exhilarating drug-and-alcohol fueled affair with the most glamorous woman he has ever met.
But his extracurricular activities quickly send his life spinning out of control when a routine DEA audit reveals serious discrepancies in his inventory. Convinced he's about to lose everything, Doug hatches an ill-considered scheme with Elizabeth that will allow to them to have it all-at an almost unthinkable price.
"Better Living Through Chemistry" will be shown at the Mary D. Fisher Theatre March 23-27. Showtimes will be 4 p.m. on Sunday and Tuesday, March 23 and 25; and 7 p.m. on Wednesday and Thursday, March 26-27.
Tickets are $12, or $9 for Film Festival members. For tickets and more information, please call (928) 282-1177. Both the theatre and film festival office are located at 2030 W. 89A, in West Sedona. For more information, visit: www.SedonaFilmFestival.org.