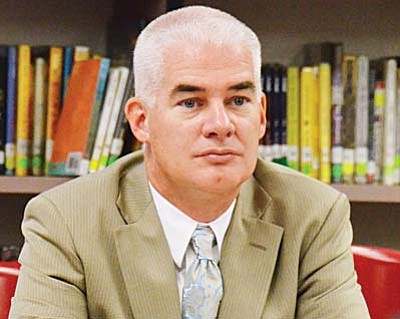 Originally Published: March 25, 2014 2:13 p.m.
COTTONWOOD - Organizations have contributed more than $2,000 to Kids at Hope since the ideology started at Mingus Union High School, said district Superintendent Paul Tighe. 
The most recent $500 grant comes from the Yavapai County Education Foundation, to be approved at Tuesday night's board meeting and used to defray the costs of training 27 people in January.
"Kids at Hope is an ideology based on the belief that all children are capable of success, with no exceptions," he said. 
The 20 members of the Kids at Hope steering committee have met twice so far, discussing ways to connect the dots between the many different places a child may come in contact with services, from school to probation. 
"The steering committee is the village, bringing people together and trying to wrap around so no kid slips through the cracks," he said. 
About a third of the committee's members have gone through the Kids at Hope Training. Members include Cottonwood Mayor Diane Joens as well as officials from Child Protective Services, law enforcement, and faith groups, among others. 
"We really want people who are representing groups who help kids," he said. "We're trying to make it a countywide effort."
The steering committee holds a monthly 4 p.m. meeting at the county building on Sixth Street and Mingus Avenue. 
Tighe said organizations have to know when to step in for kids who don't have a support system at home. Mingus principal Jennifer Chilton has found a way to use the school's current data system to find students who may be lacking a support system at home.
The Kids at Hope trainings are geared toward school staff, but there is also a parent training module available. During the committee's most recent meeting, the representative from court diversions recommended the training be required for both children and their parents in order to avoid court. 
Tighe said when schools sponsor parent trainings, most of the ones who attend are those who need it the least. 
"That's one idea that was pretty powerful," he said. 
Kids at Hope is primarily a school effort, Tighe said, with the city of Avondale having the most similar, comprehensive approach that Mingus is putting in place. 
Avondale schools partnered with the city and law enforcement, but Tighe said Mingus is also working with the juvenile probation and courts systems. 
"It's in its infancy," he said. "It's kind of a new approach in schools."
Program founder Rick Miller researched at-risk kids in the '90s, and used studies of how these children became successful. He saw that these children had caring adults in their lives and the ability to see themselves in a better place in the future, Tighe said. 
"Kids, and adults too, who are in bad situations, have to be able to envision themselves in a better situation," he said. "Once they have a picture of where they want to be ... then adults help them understand ways to get there."
The program started in Phoenix and has spread to 14 states and Canada, with 40,000 adults trained and reaching 500,000 kids, Tighe said. 
Follow the reporter on Twitter @ymgonzal and Instagram @VerdeValleyNews