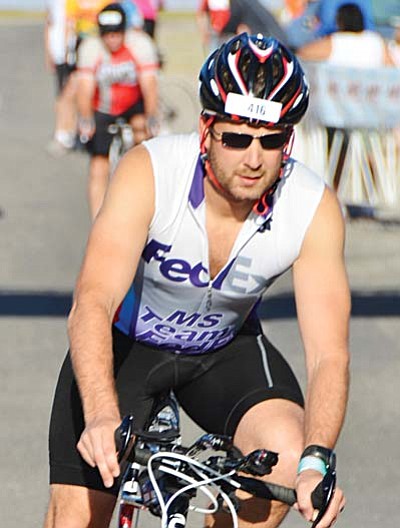 Originally Published: March 26, 2014 1:48 p.m.
This is the fifth in a series of articles highlighting the benefits of Village living!
If you know what the Slim Shady, Hiline and the Hogs are, then you are part of the growing sport of bicycling in Sedona and the Village of Oak Creek!
The Sedona area is now rated among the Top 10 World Destinations for mountain biking; and the League of American Bicyclists awarded the Bronze level Bicycle Friendly Community designation to Sedona. Cyclists seem to smile on the Village, and those of us in the Village love that fact!
The sport of mountain biking has grown exponentially from the day when it was solely a young man's sport. Mountain biking is now a family sport, a sight-seeing sport, a retirement sport (cycling is the new golf, they say) as well as a competitive sport.
The Village of Oak Creek currently has two bike shops, a very friendly ratio of shops-to-population! Sedona Bike & Bean and Absolute Bikes offer bike sales, bike rentals and service technicians, full service!
What's great about the Village is that the trailheads are close by. Sometimes they are right out your back door! The trails are varied, our scenery is spectacular. If you are a road cyclist instead of a mountain biker, the roundabouts in the Village offer safe cycling options.
There's reasonable housing here. The area hotels are benefitting from the cycling clientele, and they reciprocate by their cycle-friendly policies; some of them offer secure storage for your bikes when you're not on them, while others are okay if you roll your bike to your room.
The Village hosts plenty of good restaurants. Among cyclists, Weber's IGA has the best beer selection in Red Rock country! Combine all this with year-round riding in our four mild seasons, and we have a budding economic factor right here at home!
Bike companies love to come to the Village of Oak Creek to do their bike testing. They have quick access to the over 200 miles of trails the area offers. Since so many of the trails connect, there's an almost infinite combination of rides one can do.
Biking in Sedona was featured in a recent magazine issue of The Bible of Bike Tests. You can hardly open a bike magazine and not see a photo of biking in our Red Rocks.
The bicycling community stood at odds with the Forest Service for a couple decades; however, an alliance has been reached in the last few years.
Trails have been developed, and more are in the works. While the Forest Service has a limited budget, grant money is starting to materialize.
The Verde Valley Cyclist Coalition and a nonprofit trail fund called Sedona Red Rock, among others, continue trail building and improvement. While we are certainly not as big a bike Mecca as, say, Moab, there's no reason why we couldn't be, someday.
So the next time someone mentions the Slim Shady, Hiline or the Hogs, even if you're not a mountain biker, tell them you know at least a little about those trails. And the more you hear about them, the more you'll know that this budding industry has a strong foothold in the Village, and that's a benefit to us all!
More like this story