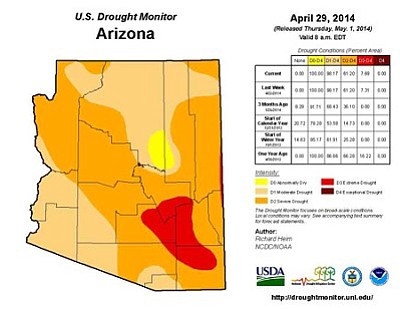 Originally Published: May 10, 2014 11:02 a.m.
No matter where one wants to place the blame - Man or Nature - Arizona has been getting warmer and drier. That is documented in the latest National Climate Assessment.
There are those who want more crackdowns on man-made pollution and advocate serious changes in energy consumption, expensive endeavors all. There are those who say all that mankind can do is adapt to hotter weather, which has its own costs.
To its credit, Arizona is doing a bit of both. Arizona has been particularly good at gathering tons of data on environmental changes. How effectively the state has responded to the data is up for debate.
Doing nothing about Man's impact on the climate is easy (Wyoming will refuse to teach it in public schools). Doing nothing about the climate's impact on Man would be fatal.
The costs of adapting to temperatures estimated to rise 5.5 to 9.5 degrees by the end of the century - expenses attached to migration, shifting health needs, creating new water, food and shade supplies in the desert - can barely be calculated now. The next great heat wave will offer a taste of the future Arizona.
With spikes in the 1930s and a dip in the 1950s, heat waves have shown an overall steady rise since 1900 in the Southwest. Current readings have most of Arizona in a severe or extreme drought, according to the Arizona Drought Monitoring Technical Committee, a drought expected only to worsen by the end of July.
Arizona lives and dies by the environment. Though hardly naming global warming as the reason, the state has made efforts on emissions reductions and encouraged use of optional energy sources. At the local and federal level, major efforts are in place to thin out the drying national forests within Arizona's borders. The challenge of managing water resources will only get more demanding.
Whatever the political battle over Man's impact on the climate, the climate's impact on Man is less debatable and more complex. And we're just warming up.
Debatable
You can share your views on this editorial or any other subject by e-mail at:
opinion@verdenews.com
More like this story