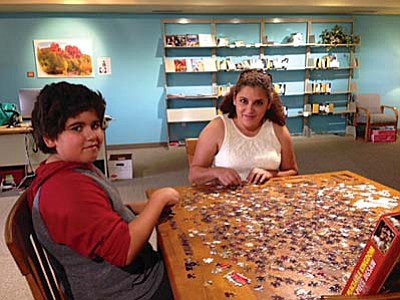 Originally Published: November 22, 2014 2:58 p.m.
As the holiday season approaches, I am reminded of wonderful times spent with my family. One of the best Christmas gifts that I received from my grandfather was "The Mystery of the Old Clock," written by Carolyn Keene and first published in 1930.
I so wanted to be like Nancy Drew, the clever protagonist who always solved the mystery. Growing up, I read my way through all the Nancy Drew mysteries.
My grandfather instilled the love of reading in my father. One of the fondest memories that I have from my childhood is going to the local library with my dad. He took me to the library before I could even read, and we spent time together selecting picture books that I pretended I could read.
I have pleasant childhood memories of Lane Public Library. My best friend and I often reminisce about our library adventures. When we were in sixth grade, we would spend an entire Saturday at the library researching and writing reports for our favorite teacher. I am sure the librarian had to tell us to be quiet when we got the giggles, but the library was always a warm and friendly place.
What makes libraries so special? Library volunteers obviously enjoy the library atmosphere, so I asked them to tell me about their childhood memories of the visiting the library. It is interesting to note that these early childhood experiences at the library may have influenced their career choices.
Dennis Young was an engineer before he retired and started volunteering at the library.
Dennis recalls, "The first time I can remember going to the library was about third grade.  The library was a small, two-room wooden frame building that served our little town of about 5,000 people.  I was just there as a tag-along with my dad, who was a great reader, but as he was browsing, I wandered to a shelf of science fiction for young readers and was immediately hooked.  The cover art and the titles, which promised rockets, space, and Mars, were just too much to resist.  I took home two or three books, and even though some of the words and ideas were too big for me, I read them through more than once before they were due back.  My passion for science fiction eventually burned out, but not my passion for reading."
Today, Dennis shares his passion for reading by volunteering at the library and serving as a literacy tutor at Big Park School. He is currently tutoring a second-grade student.
At a very early age, Bruce Vegter, another library volunteer, visited the library with his mother. From his description of his home-town library, it comes as no surprise that he pursued a degree in architecture. Here's what Bruce remembers about his library.
"My early memory of our home-town library was the stately architecture of the building and the park it was located in. It was a very large Colonial home built for a very successful resident of the community. It was donated by the family to the library board to be converted from a private residence into the library. In the home/library, there was a stately grand staircase, and the rooms were paneled in rich woods. It was something very special to go to the library with my mother. We had to take the local bus, as my mother didn't drive."
Libraries can have an important impact in children's lives. I always enjoy watching parents and caregivers interact with their children when they visit the library. Obviously, they know and understand the importance of raising readers. My father was a voracious reader, as was his father. He instilled in me the love of reading and books and for that, I am forever grateful.
Library events in the Village:
• Rotating Artist Program: A display of colorful quilts donated by the Red Rock Quilters continues through December at SPL-V. These quilts are for kids who attend Camp Soaring Eagle, a camping program for children with serious illnesses. Purchase a raffle ticket to win a quilt of your choice. Proceeds from this raffle will benefit SPL-V and Camp Soaring Eagle.
• Speaker Program: Author Brad Dimock will present "The Very Hard Way: Bert Loper and the Colorado River." There will be two programs on Wednesday, December 10: 1:30 p.m. at the VOCA Community Center (Oakcreek Country Club), 690 Bell Rock Blvd., and 6:00 p.m. at Sedona Public Library, 3250 White Bear Road. Both programs, funded by generous support from The Kemper and Ethel Marley Foundation, are free and open to the public.
• Community Book Discussion: Participate in the community book discussion of Barbara Kingsolver's "Animal, Vegetable, Miracle: A Year of Food Life" on Wednesday, December 17, at 1:30 p.m. at Sedona Winds. The program is free and open to the public. Monica Lane, librarian at the Flagstaff-Coconino County Public Library, will facilitate the discussion. Pick up your loaner copy of the book at SPL-V.
Sedona Public Library in the Village is located at 7000 Highway 179, Suite D-100. Contact Cheryl Yeatts, Manager, at 928-284-1603 or voc@sedonalibrary.org if you have questions or need directions to SPL-V.