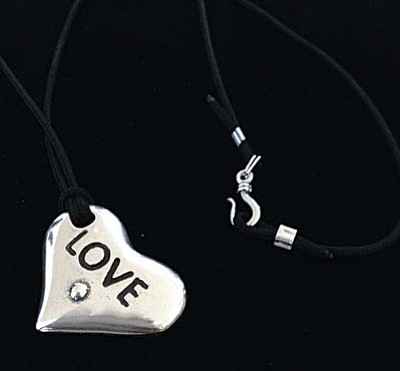 Originally Published: November 27, 2014 8:04 a.m.
Celebrated pointillist painter and sculptor Sherab Khandro will be artist in residence at Goldenstein Gallery in West Sedona during the Thanksgiving holiday weekend. The gallery's renowned Artist in Residence program features a rich and diverse group of artists in a variety of mediums. Everyone is invited to stop by to meet artists and watch them sculpt or paint at the gallery. Local favorite painter and sculptor Sherab Khandro will be in residence on Friday, Nov. 28, and Saturday, Nov. 29, and Dec.6 and 7.
Just in time for the holidays she has unveiled new paintings and launched the newest pieces in her jewelry line, "Touchstones." Featuring a pendant and key chain, the pieces are smooth to the touch and invite interaction. Heart shaped, each one is boldly inscribed with the word LOVE and infused with the intention to activate Love's energy for the benefit of all. Cast in both sterling silver and bronze, the raised dot brings the mind to this moment acting as an invitation to be present.
 Khandro's deepest wish is to nourish and inspire the hearts and minds of others through her art. She is one of a handful of western artists to receive formal training from Tibetan masters in exile in the United States in bringing forth traditional sacred art in the way it has been done in Tibet for centuries. Using the neo-impressionist style of pointillism in her paintings, tiny dots of color create vibrant imagery. Every dot is offered as a jeweled universe, a prayer to end suffering in the world.
This healing intention also carries through in her sculpture. In November of 2006 she received a grant from the City of Sedona Department of Arts and Culture Commission to develop a prayer wheel in the Tibetan Buddhist style.  A year later, during Goldenstein Gallery's  "Art as a Healing Medium" show, Khandro unveiled the limited edition bronze. 
The Prayer Wheel plays an important role in Tibetan Buddhist tradition. The prayer wheel has been used for over a thousand years by the great Yogis of Tibet, as well as Tibetan people from all various walks of life to release prayers into the world. The practice of turning the Prayer Wheel, is said to be of immeasurable benefit for oneself and others. Khandro recently created a delightful new dragonfly based miniature prayer wheel: "Emissary; Whispers On The Wind" with the intention of having this available to all.
From their unprecedented commitment to enhance their client's lives Goldenstein Gallery has become a name synonymous with style and innovation and have been consistently delighting local and visiting collectors for well over a decade. They have been voted the Best Gallery in Sedona for seven years running.
Open daily; Goldenstein Gallery is located at 70 Dry Creek Road in West Sedona. Visit www.GoldensteinArt.com to sign up for their monthly E-zine, like them on FaceBook or call 928-204-1765 for information.