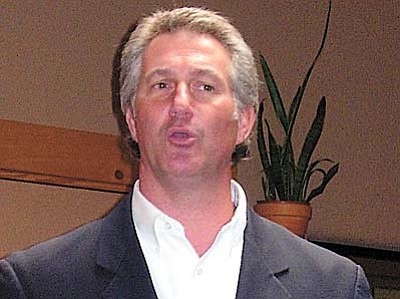 Originally Published: October 10, 2014 2:42 p.m.
PHOENIX -- Rejecting claims his congressional privilege was violated, a federal appeals court on Thursday upheld the convictions of Rick Renzi on charges of extortion, fraud, conspiracy and racketeering.
The three-judge panel of the 9th U.S. Circuit Court of Appeals acknowledged that members of Congress are entitled to certain constitutional protections from being questioned about their official acts. And that generally would extend to members of the congressman's staff.
But Judge Richard Tallman, writing for the unanimous court, said Renzi opened the door when he attempted to use his own legislative acts as a defense in the criminal case. And that, the judge said, allowed prosecutors to then question Renzi's staffers about the acts to make their case that he was lying.
"The rationale makes sense,' Tallman wrote. "A congressman cannot claim the protections of the privilege when he himself introduces the volatile evidence.'
Thursday's action not only upholds the 17-count conviction following his trial in Tucson but the three-year prison term imposed on him last year. The appellate court, which had allowed him to remain free during the appeal, made no mention in Thursday's ruling when he would be ordered to report.
The main charge relates to efforts by Resolution Copper Co. to acquire land from the federal government it needs to begin mining near Superior.
According to testimony, Renzi, first elected to Congress from the sprawling district in 2002, agreed to sponsor legislation to authorize Resolution to get the land through a swap with environmentally sensitive land the federal government wanted. But Renzi said that land that Resolution had to buy and offer had to be a 640-acre parcel of land in Cochise County, adjacent to the San Pedro River, which was owned by James Sandlin.
Bruno Hegner, a former Resolution executive, told jurors of an angry phone call from Renzi in 2005 that "unless the Sandlin property were included in the exchange package, he would not sponsor legislation.' And Hegner said when he attempted to explain the difficulties of such a deal, Renzi said, "no Sandlin property, no bill.'
Prosecutors said Renzi's interest in that property was that Sandlin, a former business partner, owed him $700,000 and needed the cash to pay off the debt. And when Hegner found out the pair had been in business together, the company opted not to purchase the Cochise County property and Renzi's swap legislation died.
He left Congress at the end of 2008 after his indictment but before his trial. To date, Congress has yet to approve a deal with Resolution to acquire the land it wants near Superior.
Renzi also was convicted of a separate effort to get Sandlin's property purchased by The Aries
Group as a condition of pushing a separate exchange of federal land the company wanted near Florence. Court records show Aries paid Sandlin $1.5 million in principal plus another $153,000 in interest but that a federal land exchange bill with Aries never was introduced.
And he also was found guilty of separate offenses that he embezzled insurance premiums paid by clients of his brokerage firm.
Thursday's ruling is unlikely the last word.
"We are disappointed with the court's ruling,' said Kelly Kramer, one of Renzi's Washington, D.C. attorneys. "We intend to seek further appellate review.'
Among the arguments Kramer presented was that Renzi was interested in having Sandlin's land acquired because it was being leased to a farmer who was pumping a lot of water from the San Pedro watershed. And that drain of water, in turn, endangered the future of Fort Huachuca.
That is what made crucial the testimony Renzi sought to block from Joanne Keene, his former congressional district director.
She told jurors that Renzi "did not seem very excited and interested in the Resolution Copper exchange' when the Sandlin tract was not longer part of it.' And Keene also said Renzi told her he "wanted to put the brakes on' the Aries exchange after Congressman Duke Cunningham had been indicted on charges of public corruption.
In Thursday's ruling, Tallman said both conversations were admissible because they went directly to counter Renzi's arguments there were different reasons for his actions.
More like this story