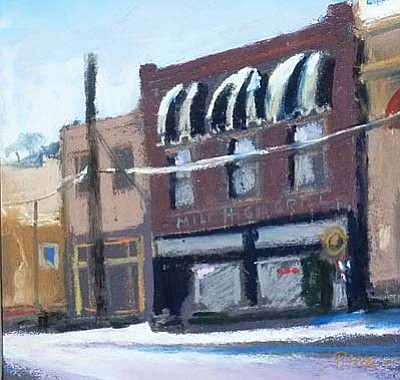 Originally Published: October 16, 2014 2:19 p.m.
Theodore Roosevelt on Verde Valley Campus
Oct. 17
Theodore Roosevelt was the face of America for three decades: Powerful, opinionated, intensely loyal and devoted to the ideal of a just, honorable, and muscular America.
Actor Derek Evans energetically brings President Roosevelt back to life in performances from the White House Visitor Center to grade school classrooms, museums and theaters across the United States.
The event is at the Yavapai College Verde Valley Campus on Friday at 7 p.m. in the Verde Valley Community Room, M-137. Tickets are $10 at the door.
Forensic Anthropology in the Real World
Oct. 21
The Verde Valley Archaeology Center (VVAC) will hold its next free lecture on Tuesday at 7 p.m. at the Sedona Creative Life Center, 333 Schnebly Hill Road. Kimberly Spurr specializes in bioarchaeology-the study of human remains and mortuary features-which focuses on innovative ways to understand and reconstruct the past and the lives of people. Forensic anthropology is presented in the popular media as a dramatic and exciting scientific discipline that is central to solving high-profile crimes.
For more information call the Center at (928) 567-0066, or visit their website at www.verdevalleyarchaeology.org.
Cookies and Conversation with First Things First
Oct. 21
First Things First (FTF) is committed to helping Arizona kids 5 and younger receive the quality education, healthcare and family support they need to arrive at school healthy and ready to succeed. Please join us at the Aspen Ridge Apartments, 831 East Mingus Ave., in Cottonwood on Tuesday, 2-3 p.m. to share your thoughts and hear more about the FTF Yavapai Regional Partnership's strategic plans for the upcoming fiscal years. For more information, please contact us at (928) 776-0062.
Should Northern Arizona be adapting to climate change now?
Oct. 22
Philosophy in the Public Interest Environmental Hot Topics Café will discuss "Should Northern Arizona be Adapting to Climate Change Now? If so, How?" People will be invited to discuss the questions: What is the evidence for devastating climate change in our region? Is the evidence of risk of climate change sufficient for adaptive action? Why or why not? What strategies, if any, should Northern Arizona adopt to deal with climate change? How do the specific strategies we've suggested square with our values, such as sense of place?
The event is Wednesday from 5:30 to 7 p.m. at the Osher Lifelong Learning Institute (OLLI), 4215 Arts Village Drive, Sedona. Call (928) 523-8339 or email nau.ppi@nau.edu
Friday Fall Trip to Musical Instrument Museum
Oct. 24
Camp Verde Parks & Recreation and Community Library hosts the next Friday Fall Trip to the Musical Instrument Museum on Friday. Tour the museum filled with over 6,000 instruments from 200 countries. See and hear the music on classic and unusual instruments from cultures around the world. See how they work, why they sound like they do and try making music yourself.
This trip leaves at 9 a.m. from the Community Center Gym on Hollamon Street and returns at 3 p.m. Participants must be 8 years old or have a parent with them. For more information call Parks & Rec at (928) 554-0828, check out www.cvaz.org or like us on Facebook.
Learn to manage falls and increase activity levels
Oct. 27-Dec. 15
Do you have concerns about falling? Many older adults experience concerns about falling and
restrict their activities. Sponsored by Area Agency on Aging NACOG, A Matter of Balance will be held from 1 p.m. to 2 p.m. Tuesdays at the Verde View Apartments, located at 377 W. 260 in Camp Verde. Program is free and includes all materials and snacks. For more information, contact Penelope Cook at (928) 606-5371 or Penelope.cook@rhf.org, or contact Susan Hunter at (928) 213-5243 or shunter@nacog.org.
Boscole to perform at Creative Live Center
Nov. 13
Pianist and composer Christopher Boscole performs inspiring, reflective, and meditative original compositions in impressionist style for solo piano. He will perform solo piano Thursday at 7 p.m. at the Sedona Creative Life Center's Great Room, 333 Schnebly Hill Road.
Purchase an advance General Admission ($15 )ticket and select Will Call and receive a free CD "A New Age of Classical Piano" at the entrance door. Free CD offer does not apply to discounted tickets. Call (928) 282-9300.
Tryouts for Cottonwood Idol
Nov. 19 & 22
So you sing? Do you like performing? Audition for Cottonwood Idol II, a vocal competition open to all ages 8 years and older. Contestants will compete in three age categories - Junior Rising Star, Rising Star and Cottonwood Idol.
Auditions are Wednesday from 5 to 8 p.m. and Saturday from 10 a.m. to 2 p.m. at the Susan J Rheem, Adult Care Services Center on Main Street. Audition fee is $10; Audience tickets at the door $5. For more information or to register for auditions, contact Cindy at (928) 300-9860 or cholcombe114@gmail.com.
Made in Clarkdale Art Show 2014
Dec. 5-14
"More than just an Art Show," the 28th annual Made In Clarkdale Art Show opens Friday 6 p.m.-9 p.m. with its free Gala Event at the Clark Memorial Clubhouse. It continues daily from 9 am - 9 pm through Dec. 14. The show proudly presents the original artwork of 60+ Clarkdale artists.
The Gala Opening Event is a time to dress up for a party, meet neighbors for pre-holiday cheer and enjoy Clarkdale art and music. Visit www.MadeInClarkdale.org to see the complete event schedule, the 2014 Artist Program, and support Made In Clarkdale with your tax deductible donation, email: info@MadeInClarkdale.org, or call 928-239-4776.
Spook Night at Verde Valley Fairgrounds
Oct. 17-18
The Jerome Verde Valley Club Inc. is holding their 62nd Annual Scholarship fundraiser with two nights of dancing. Friday will begin with a cocktail hour from 6 to 7 p.m. and then dancing from 7 to 11 p.m. The dress is western attire and the music is by DJ Rafael Rosas. It is a donation of $12 per person and will be held in the art building at the Verde Valley Fairgrounds, 800 E. Cherry St.
Saturday will begin with a cocktail hour from 7 to 8 p.m. and then dancing from 8 to midnight. The theme is "Dress to Impress" and the music is by Northern Arizona Latin Express. The cost is $15 per person and will be held in the Commercial building at the Verde Valley Fairgrounds.
Humane Society Rummage Sale
Oct. 17-18
The Verde Valley Humane Society is holding a huge rummage sale to benefit the dogs and cats at the shelter. Mark your calendars for Friday and Saturday from 10 a.m. to 5 p.m.
They are cleaning out the storage areas and encourage supporters to do the same. Bring gently used items to the shelter or to Paw Boutique. Volunteers are also welcome. All proceeds will benefit the shelter animals.
New start time for Grape Stomp 5K
Oct. 18
The Verde Valley 5K Grape Stomp race will take place through Historic Old Town Cottonwood on Saturday.
The race will begin on Main Street adjacent to the Cottonwood Lions Park in Old Town, 7:30 a.m. The race originally was scheduled to begin at 9.
Registration begins at 6:30 a.m. at Rendezvous in Old Town.
There is also online registration available at arizonawine.org/grapestomp.html.
The $35 registration fee includes a runners' tote bag, event t-shirt, wine glass, and discount coupons.
The wine glasses can be used at local wineries for discounts.
Vineyard craft fair this weekend
Oct. 18
The Vineyard Christian Fellowship of Cottonwood, 3605 S. Zalesky Road, is hosting their second annual Arts & Craft Fair Oct. 18, 9 a.m. to 2 p.m.
Stanfield Echo book signing at Jerona
Oct. 18
Author Stanfield Echo will be on hand Saturday from noon to 3 p.m. to autograph books at Jerona Cafe, 677 E. Mingus Ave., in Cottonwood. "The Legend of Mordecai Sackett: Part 1 - Planet of the Goats" can be purchased online at Amazon and limited number of books will be available at the event. For more information, email sackettmordecai@gmail.com.
Contra Dance returns
Oct. 18
It's time once again for Contra Dance at the Cottonwood Civic Center, 805 N. Main St. in Old Town. Get an aerobic workout to the live music of the Cottonwood Contra Dance Band with calling by Steve Elliot. No partner or experience needed wear comfortable shoes. First-timers ALWAYS welcome-all dances are taught and called. Come at 6:30 for the teaching session and then dance from 7 to 10 p.m. Make new friends and have fun! Donations are $9 per dancer & $7 for students.
Scott art exhibit at Cottonwood Village
Oct. 20-22
There will be a free art exhibit featuring James Godwin Scott's work Monday through Wednesday. There will be an opening wine and hors d'hoeuvres reception with the artist, Monday from 3 p.m. to 4 p.m. at Cottonwood Village, 201 E. Mingus Ave. The art exhibit will be open to the public 3-8 p.m.
A one-man show of Scott's paintings will be displayed with some works for sale. He painted for more than 25 years along the Mississippi River capturing life on the river and river boats such as 'The Paddle Wheeler Becky Thatcher.' For more information call Mara Miller at (928) 634-4229
Instant Piano for Hopelessly Busy People
Oct. 20
Cottonwood Parks and Recreation brings in Craig Coffman to teach the nationally renowned "How To Play Piano in Three Hours" workshop on Monday from 6:30 to 9:30 p.m. Coffman's approach reveals how the pros play. He has extensive experience as a professional pianist and music director.
Anyone interested in taking the workshop is welcome to send for a free pamphlet titled "How To Read Music Notation In Just 30 Minutes!" Send a self-addressed, stamped envelope to Innovative Keyboard Instruction, 2841 S. Southwind Drive, Gilbert, AZ 85295. For more information, the cost of the class, or to register please call the Cottonwood Parks and Recreation at (928) 639-3200.
Learn How to Self-publish and Market Your Book
Oct. 21 & 28
If you want to publish a book, now is the best time. In the last few years, self-publishing has gained increased credibility, making it an excellent choice for authors wishing to see their writing in print. A two-part workshop instructed by Diane Phelps will be held on two Tuesdays from 9 a.m. to noon at the Cottonwood Economic Development Business Assistance Center (BAC), 821 N. Main St., Cottonwood. Cost for each session of the workshop is $35 or a total of $70 for both.
To register for the workshop, call Diane Phelps at 928-202-0898. In order to receive a copy of the valuable handouts that accompany the workshop content, payment for the workshop must be received by October 20.
MATForce offers free training on motivational interviewing
Oct. 23
MATForce is offering a free Motivational Interviewing training designed for professionals working to improve treatment outcomes for clients with substance abuse and other disorders. It is an empathic, supportive counseling style creating conditions for change.
The three-day Cottonwood training will be held from 8:30 am to 5 pm on Oct. 23, 30 and Nov. 6 at the Yavapai County Cottonwood Annex, Verde Room, 10 S. Sixth St., second floor. Registration is required as space is limited. To register email: pat.robison@yavapai.us. Call (928) 708-0100.
MATForce Lunch 'n Learn on AZ Youth Survey
Oct. 23
The next MATForce Lunch 'n Learn will identify results of the 2014 Arizona Youth Survey (AYS), which is administered every two years by the Arizona Criminal Justice Commission. Results of the survey provide answers on why and how kids use drugs. Over 2,000 Yavapai County students in grades 8, 10 and 12 took the AYS.
The Lunch 'n Learn will be held on Thursday from 11:30 a.m. to 1 p.m. at the Board of Supervisors Room, Yavapai County Administration Building, 1015 S. Fair St., Prescott and teleconferenced to the Yavapai County Cottonwood Annex, 10 S. Sixth St., Cottonwood. It is free and open to the public. Brown-bag lunches are welcome. For more information call (928) 708-0100 or visit at matforce.org.
Creative Placemaking
Oct. 23
National award-winning urban planner Leonardo Vasquez, executive director of the National Consortium for Creative Planning, will speak at the Cottonwood Recreation Center, 150 S. Sixth St. From 4 to 6 p.m., he will speak on "Integrating Community, Cultural and Economic Development."
The event is free. For more information and to RSVP, contact Juliana Brutsche at (602) 882-5196 or Juliana@azculture.com.
Sharing the Magdalene teachings
Nov. 14-23
Multi-award winning author and channel for Mary Magdalene, Mercedes Kirkel, will be offering a series of events in Sedona in November to share the Magdalene teachings. Kirkel will begin her visit with three days of events at Unity of Sedona. She'll be presenting "The Magdalene-Christ Union" on Friday evening, followed by a one-day workshop on Saturday titled "Experiencing the Magdalene-Christ Union." Kirkel will be the guest speaker at Unity of Sedona for the Sunday morning services. In the afternoon, she'll be offering a "Live Channeling of Mary Magdalene" from 2:30-5:30.
On Wednesday evening, Kirkel will offer another "Live Channeling of Mary Magdalene" at Sherpa Spirit in the Village of Oak Creek. Kirkel's visit to Sedona will conclude with a 2-1/2 day workshop titled "Light-Filled Intimacy(TM)" that goes from Friday evening through Sunday. For more information, go to www.mercedeskirkel.com.
Authors sign books at Clarkdale Museum
Oct. 30
Two local authors, Diane Rappaport and Ginny Chanda, will be reading and signing their books on Thursday at 7 p.m. at the Clarkdale Historical Society & Museum. Writing under the name Val Chanda, Ginny is a well known local educator having retired as professor emeritus from Yavapai College on the Verde Campus. Her series, "PSY MIND: Deadly Reckoning, Calculated Risks, and Judgment Called" was released in 2012 with a brand new series just recently released. Diane Rappaport, a well know local writer and historian, returns to the Verde Valley to sign her book, "Home Sweet Jerome: Death and Rebirth of Arizona's Richest Copper Mining City" and shares her insights about the aftermath of the closing of the mines in Jerome in 1953. Don't miss out on the opportunity to meet these authors and share their stories. Clarkdale Historical Society and Museum is located at 900 First North St..one block north of historic Main Street. 928-649-1198.
Wine Consortium meeting
Oct. 22
The quarterly meeting of the Verde Valley Wine Consortium is Wednesday at 10 a.m. at Four Eight Wineworks, 907 Main St., Clarkdale.
Sustainability in Our Backyard event in Clarkdale
Oct. 18
The Town of Clarkdale will be hosting the second Sustainability in Our Backyard Event on Saturday from 8 a.m. to 1 p.m. at the Town Center at 19 N. Ninth St. This event is focused on celebrating community and individual wellness and will feature a variety of vendors offering assistance in maintaining a sustainable town and a sustainable lifestyle.
Questions should be directed to the Community Development Department at (928) 639-2500.
Women's Veteran Lunch
Oct. 19
The American Legion Auxiliary Unit 25, Cottonwood is having a lunch to honor all women who were in the military with a complimentary lunch at Nate's Cowboy Café, Highway 89A Clarkdale on Sunday at noon. If you would like to enjoy this lunch please contact Lona White (928) 221-2703 before Oct. 18.
Free children's clinic at Spirit of Joy
Spirit of Joy Lutheran Church is pleased to announce its free Children's Clinic will be held every Saturday 9 a.m.-noon at the church campus, 330 Scenic Drive, Clarkdale.Sports and school physicals are available from a certified nurse practitioner. This service is intended for those without insurance or the underinsured in the area.
See http://sojaz or call 634-4102 for further information.
Website Design III workshop
Oct. 22-23
The Business Assistance Center presents the workshop "Website Design III" with two classes available. This three-hour class, held in Yavapai College's computer lab, teaches students how to customize and add the accessories to their website on Weebly that was developed in the Web Design Part 2 class.
The Wednesday class is 5-8 p.m. at the Sedona Center for Arts & Technology. The Thursday class is noon-3 p.m. on the Clarkdale campus, 601 Black Hills Drive. Fee is $25. Call to register: (928)-340-2740.
Explore paranormal mystery with OLLI
Oct. 24
The next OLLI monthly special program will be on Friday at 2 p.m. on the Yavapai College Campus in Clarkdale - Building M, Room M-137.
Paranormal Mystery Author, Lori Hines will present the newest book in her Ancient Ones mystery series along with a book signing.
Osher Lifelong Learning Institute is a self-directed membership organization within Yavapai College that encourages peer learning for adults, individual participation, leadership and social interaction in a relaxed atmosphere focused on the joy of learning.
For information about OLLI call the OLLI offices at (928) 649-5550 or 649-4275 or visit the website www.yc.edu/Ollisv
Whispers among the Ruins
Oct. 24
Lori Hines, paranormal mystery author and "Under the Surface" digital radio host, will present a program for Osher Lifelong Learning Institute (OLLI) on the Yavapai College Verde campus in Clarkdale on Friday, 2-4 p.m. in room M-137. The public is invited to explore "The Ancient Ones" mystery series of three books with the Goodyear author.
Hines, a paranormal investigator and archaeology enthusiast, draws from the prehistoric cultures of Arizona, her home state, including those of Tuzigoot, Montezuma Castle and Montezuma Well for her research, ideas and experiences for her books and radio discussions.
More like this story