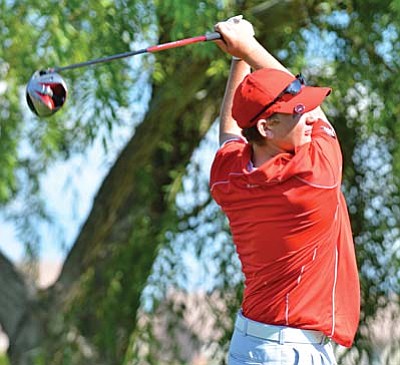 Originally Published: September 13, 2014 12:01 p.m.
COTTONWOOD -- Wednesday, the Mingus Union High School Golf team hosted both Liberty High School (Peoria) and Valley Vista High School (Surprise). Mingus has all its home matches at Verde Sante Fe golf course in Cornville.
The Marauders finished in second place with an overall team score of 183. Liberty won with a score of 157, while Valley Vista had a score of 199. Mingus head coach Craig Mai said overall he was happy with his team's performance.
"I was very pleased," Mai said. "We shot our lowest round, as far as competitive for the year. I liked the decisions that we were making. I thought we played outstanding. We are making improvements that I want to see us make."
He added Mingus did well against good teams.
"Liberty is a good team," Mai said. "Individually, they took first, second, third and tied for fourth. We're getting there. It's just a combination of continuing to work on our short game, improving on our iron play and getting better with our drivers. It's just improving on every facet of the game."
The individual scores for the Mingus players were junior Bryan Valenzuela leading the team with a 9-hole round of 41. Next, it was sophomore Keagan Lamb with a score of 43, Tyre Kim with 48. Travis Nester had 51. Grant Williams finished at 62.
"Keagan played well when he didn't have his best game," Mai said. "He really kept it together. He found a way to score half way decent."
Mia mentioned the team still needs to work on its short game.
"Short game is always something we're going to focus on," he said. "Because that's where you're going to be able to save the most strokes."
Mia said all of his golfers have shown improvement. But he added Travis Nester has really impressed him.
"I saw him work over summer," Mia said. "He played in some tournaments on his own. So that was good experience. He's been out here working hard."
Valenzuela's good play should be no surprise. As a junior on a team with no seniors, he is one of the most experienced golfers on the team. Valenzuela said staying focused is the main reason why he did so well.
"Just knowing this is my home course," he said. "I had to step it up a little bit and lead my team."
Valenzuela added that he thinks the home course helped everyone. But, he said the team could have done better.
"This being our home, I think everyone steps it up a bit," he said. "We play better. I think, as a young team, we didn't do as well as we hoped."
Valenzuela said it is his responsibility to be one of the leaders of the team.
"I just give them something to look up to," he said. "When we go to tournaments I try to lead them."
Lamb was another impressive golfer on Wednesday. But, he said he could have been better.
"I feel that I could have done a lot better," Lamb said. "I wasn't putting very well. I had a birdie opportunity and I just blew it. My drives were looking good. But I could have done better."
He added that putting is what he needs to work on the most over the length of this season. He said that his accuracy is the best part of his game. Lamb said there are some certain things the team needs to improve to be as good as it can be.
"We need to work on our accuracy more," he said. "We need to work on our short game."
Since Lamb is good at accuracy, he said he tries to help his teammates improve there. The Marauders did play well. But Lamb said they all could have done a little better.
"I think we could have all shaved a couple of strokes off," he said. "Just hitting out of bounds and those chips and those putts that we could have made. If we could have all just made those, we could have had a great round."