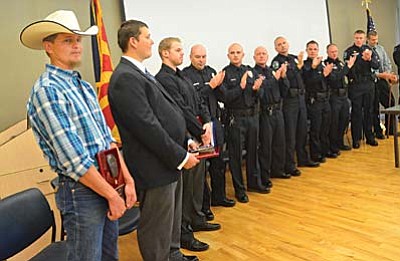 Originally Published: April 9, 2015 11:09 p.m.
COTTONWOOD -- Hundreds of friends, family members and community members packed a meeting room of the Cottonwood Recreation Center Wednesday to honor three citizens who came to the aid of Cottonwood police during the March 21 Walmart parking lot brawl.
Cole Taylor and Corey Brady, both of Cottonwood, were granted the civilian Police Star by Chief Jody Fanning for assisting wounded Sgt. Jeremy Daniels to get to safety in a police vehicle away from the fight scene. Daniels had been shot in the thigh during the brawl.
Mobile users use this link to view YouTube video
The third man honored was Walmart Loss Prevention Officer Eric Fields of Camp Verde. He was granted a Medal of Valor. Chief Fanning said that Fields waded into the brawl and prevented multiple assailants from further assaulting the officers. Fanning said that Fields "took a beating" himself.
When the Department of Public Safety releases the dash cam video Friday showing the fight, Chief Fanning said people will see that officers and civilians performed admirably.
The eight officers involved in the incident were also honored. They are Officers Matthew Strickland, Clint Dobrinski, Brandon Clark, Tate Stearley and Richard Hicks as well as Sergeants Joshua Fradette, Kevin Murie and Jeremy Daniels.
Daniels just this week finally had the bullet removed from his leg. Surgery had been delayed because of swelling.
Mayor Diane Joens was on hand along with several council members.
She opened the celebration by addressing the audience, "Officers start the day with little knowledge what the day will bring. Still they put on their uniform and serve."
She applauded officers for using extreme restraint with their firearms. The mayor also said all the officers in the department have been schooled in the program "What you do matters," the Holocaust training given to officers throughout the state by County Attorney Sheila Polk and Cottonwood City Manager Doug Bartosh.