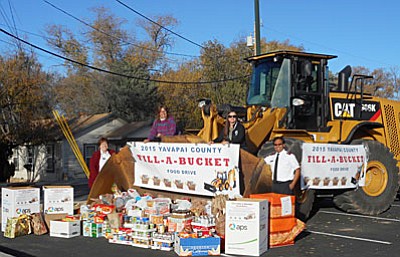 Originally Published: December 1, 2015 11:02 a.m.
Editor:
Yavapai County Public Works Director Byron Jaspers, Office Manager Micki Johnson, Emergency Management PIO Marcie Slay, Salvation Army Lt. Elaine Mansoor, Lt. Gene Apuan, Cottonwood Old Town Mission Kelly Wilson, Bob Burnett, Jill Sweet, Will Woodruff, and Bill Rodriquez would like to thank all the employees and residents Yavapai County for all their donations to this year's
Fill-A-Bucket Food Drive in Prescott and Cottonwood.
Together we raised 2,883 pounds of food that will be shared throughout Prescott, Cottonwood, and the outlining areas of Yavapai County.
A special Thank You to Empire Southwest for donating the use of the bucket.
Yavapai County Public Works Dept.