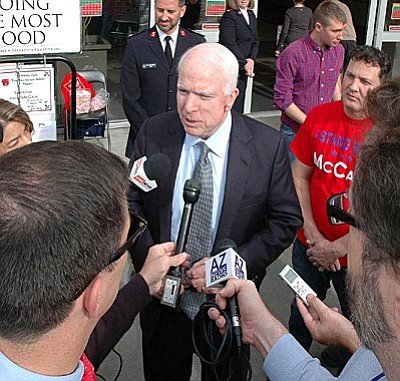 Originally Published: December 22, 2015 12:53 p.m.
PHOENIX -- With his first and only pick for president falling out of the race, John McCain is not ready to make another endorsement.
McCain had been a strong backer of fellow senator Lindsey Graham from South Carolina for the Republican nomination, even campaigning with his fellow defense hawk as recently as this past week. But on Monday, with Graham's support mired in the low single-digits, Graham announced in a video to supporters that he was folding his bid.
Speaking to reporters hours later, McCain was philosophical -- and non-committal about where his support goes now.
"I appreciate everything Lindsey Graham has done,' McCain said.
" I'm proud of the race he ran,' Arizona senior senator said. "But I will be remaining out of it, certainly for the time being.'
Nor did the prospect of having Donald Trump as the party's standard-bearer make him flinch from his desire to neither endorse nor criticize any of the remaining Republicans.
"I will respect, obviously, the verdict of the voters, the Republican voters in the primary process, of course,' said McCain, who was the GOP nominee in 2008 before losing to Barack Obama.
Anyway, McCain said he does not particularly believe that anything he says will make a big difference.
"I really believe that endorsements are one of the most overrated aspects of American politics,' he said, saying that's particularly true in New Hampshire which has the first primary -- and second event following the Iowa caucuses.
"They like to make their own judgment of the candidate,' McCain said. "And they get a chance to see all the candidates.'
For the moment, McCain appears more focused on ensuring he has a political future of his own.
His comments Monday came at a staged event adjacent to a Phoenix mall where staffers said he would ring the bell at a Salvation Army kettle to help collect donations. McCain came, put a check in the kettle, rang the bell a couple of times, chatted with reporters, signed autographs, posed for pictures -- and left, all in less than half an hour.
First elected to the Senate in 1986, McCain is facing a primary challenge by state Sen. Kelli Ward, R-Lake Havasu City. She is campaigning on being a Washington "outsider,' saying it is time to send McCain packing.
McCain said there are benefits to Arizona from his seniority, a position that, with the Republican takeover of the Senate, has made him chairman of the Armed Services Committee.
"I'm proud of what I've done,' he said. "And I'm confident that I can do a lot more than anybody who would run against me, no matter who it is.'
In his new position, McCain said he will work against pork, particularly in military spending. But none of that blocked the new budget deal signed just this past week, a spending plan he said "wasted billions of dollars' on unneeded military projects.
"They added $225 million for a ship we didn't need or want,' McCain said. And he decried taking $1 billion out of the defense budget for medical research.
"I'm all for medical research,' he said. "It shouldn't be taken out of defense.'
Whoever survives the GOP primary will face off against incumbent Democrat Congresswoman Ann Kirkpatrick.
McCain also sided with Gov. Doug Ducey and other governors, mostly Republican, in urging at least a temporary halt to refugees.
"I know one thing for sure, that is Mr. (Abu Bakr al-) Baghdadi is sending people to try to get to Europe and the United States of America,' he said of the ISIS leader.
"They've obviously succeeded in Paris,' McCain continued. "They've obviously succeeded to some degree in San Bernadino.'
Nor was McCain dissuaded by the fact the California attack was by any refugee. He said Pakistani-burn Tashfeen Malik came to this country under a "fiancee visa' to be with her U.S. citizen husband.
"So we have to examine all of our immigration procedures to make sure that there's not a way that people can get in who will commit acts of terror in the United States,' he said.
On Twitter: @azcapmedia