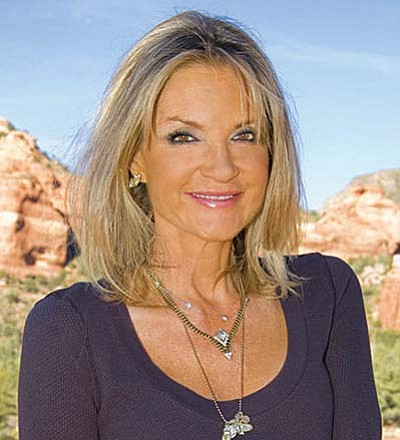 Originally Published: February 17, 2015 5:02 a.m.
SEDONA -- The 21st annual Sedona International Film Festival will celebrate the 100th birthday of film icon and former Sedona resident Orson Welles with screenings of Citizen Kane, Othello, Touch of Evil, Falstaff - Chimes at Midnight, several documentaries about his life and career - with post-film Q&As hosted by his daughter, Beatrice - and a discussion about his final, unfinished film, The Other Side of the Wind, from Feb. 21-March 1 at screening venues throughout Sedona.
Documentaries include the controversial, The Battle Over Citizen Kane, and Magician: The Astonishing Life and Work of Orson Welles.
Beatrice, who lives part-time in Sedona, has helped Festival organizers pull together not only the feature films to be screened but panels and speakers for each screening including critic Jeffrey Lyons, The Other Side of the Wind producer Filip Jan Rymsza, cameraman Mike Ferris, actors Pat McMahon and Peter Jason; Josh Karp, the author of the upcoming book, "Orson Wells' Last Movie: The Making of the Other Side of the Wind;" Ray Kelly, who is the driving force behind Wellesnet, the leading online source about Welles life and career, and other special guests.
The 2015 edition of the Sedona International Film Festival features 160 films from around the world, workshops, panel discussions and special events.  The full schedule can be found at http://www.sedonafilmfestival.org. 
 Welles lived in Sedona from 1977 to 1979, eventually moving to California to accommodate a hectic work schedule.  His daughter, Beatrice, who manages Welles' estate, is planning to write a book about her father, "whom I worship," she said.  "When I talk about my father, I wear two hats: I look at him as he was in my mind and that's a separate person from my father.  It's impossible to think of Daddy as the genius who did all that he achieved."
Beatrice is quick to point out that 2015 is not only her father's 100th birthday, but the 30th anniversary of his death.  Welles' ashes are buried at Spanish Villa in Ronda, Spain at the country house of retired bullfighter, Antonio Ordonez, where the American filmmaker spent vacations.
"Spain is very emotional for me because it was very special for my father," Beatrice said.  
Although she did not have a hand in selecting the documentaries - and does not necessarily like or agree with content in Magician: The Astonishing Life and Work of Orson Welles - she described The Battle Over Citizen Kane, originally a made-for-TV special by WGBH in Boston, as "an incredibly interesting documentary that you should watch first and then watch the movie because you will know what happened behind the scenes.  They almost burned that negative."
Selecting Citizen Kane, though, was a no-brainer.  "Every time I see that film there's something that I hadn't seen before," she said.  "It is truly a remarkable film."
She said Othello, which won the Palme D'Or at the 1952 Cannes Film Festival, has a special place in her heart because of what it meant to her father.  "When it premiered at Cannes, there was a four-to-five minute standing ovation.  Nothing in my life could top that."
Touch of Evil (1958, Welles, Charlton Heston, Janet Leigh) has been restored and includes 14 minutes that producers removed from the original film after Welles was taken off as director.  "They found notes on each scene that was cut and put it together with the ending he originally wrote," Beatrice said.
She said that Falstaff -- Chimes at Midnight (1965, Welles, Jeanne Moreau, Margaret Rutherford) "was the movie my father wanted to be remembered by."  Until recently, she said the film had only been available on the black market.  "Being able to show it is a very rare occurrence."
Sedona International Film Festival films will run all day beginning Saturday, Feb. 21 on four screens at Sedona Harkins 6, 2081 W. Highway 89A; the Mary D. Fisher Theater, 2030 W. Highway 89A, and the Sedona Performing Arts Center at Sedona Red Rock High School, 995 Upper Red Rock Loop Road.
Packages, other than for full-time students, are available online at www.sedonafilmfestival.org or through the Festival Box office at (928) 282-1177.  Student packages must be purchased through the Box Office and student ID's are required.  For more information, visit www.sedonafilmfestival.org.