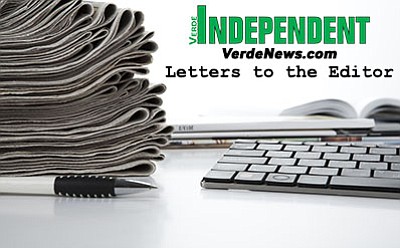 Originally Published: February 26, 2015 9:03 a.m.
Editor:
Thank you for the great coverage on the "standing room only" resident protest against the 65-foot tower being proposed close to many residential homes in Clarkdale. The turnout at Nate's Cowboy Cafe was huge, despite the fact that the Town of Clarkdale only mailed out notices regarding the "neighborhood" meeting and their upcoming Planning and Zoning meeting on March 17th at 4PM to people who lived within 1000 feet of the proposed site.
And those announcements only arrived on the Saturday before the Tuesday meeting. Given that Monday was a holiday there was a chance that many people didn't even get a notice in time for something that could affect their view, their property values and their health.
The paper quotes Ms. Escobar, Clarkdale's Town Planner stating the "Community Outreach" is one of the elements that the town will use to evaluate the application. A 1000-foot radius is not much of an outreach. In case they are still scratching their heads why there was such a large turn out, I personally sent out 350 notices to everyone living within 1/2 mile of the proposed tower, even though the health effects could be hazardous out to 1 mile or more.
Regarding health risks the statement by Mr. Waniewski about the safe limits set by the FCC, is misleading because the FCC "safe limit" it to prevent burns at close range, not long-term exposure to lower (one tenth of one percent) emissions, called non-thermal emissions. The FCC itself has not done tests on long term exposure to these "safe" emissions, but many scientists and universities around the world have.
The inch and a half thick stack of papers that I held up during the meeting represented only a fraction of the studies that have been done, showing biological effects. The worse effects are within 500 feet, then decreasing gradually over the distance away from the tower up to 1 or 2 miles. The scientists performing these tests and epidemiology studies done in many countries and over many years didn't do it for laughs or as a hobby. And they were not funded by parties interested in certain outcomes. Some of the effects of long term RF radiation is probably not strong enough to damage DNA molecules, which would be easy to spot very quickly. But it has been shown to effect tertiary bonds in proteins and enzymes in the body, sometimes taking years to manifest in a human body. Plus the immune system will metaphorically have its "hands full" fighting off the effects. We have enough stressors in our environment that we should not allow another strong one to be hoisted on us against our will. 
So I would be deathly afraid to live within the ½ to 1 mile range of this proposed cell tower, but the tower proposed location is 150 from my property line and only 450 feet from my home.
To have the government warn cell tower companies to identify (implying to steer clear of) likely locations of "Sensitive Receptors" (the elderly, the ill and children) at such institutions such as schools, day-care centers and nursing homes, because of their weakened immune systems - should be a clue that something is going on biologically. But the main reason is that having a cell tower near any of these institutions would prove easy to identify clusters of illness, including childhood leukemia and other biological effects, under one roof and make it much easier to document and someone could be held liable.
But if the sensitive receptors are just scattered around, living in many homes, then the cases would probably go unrecognized as a "cluster", unless an Epidemiology study is performed over a number of years for a given area around the radius of a cell tower. 
But getting back to the neighborhood meeting, the front page photo of Mr. Phil Terbell is captioned with "area resident, Phil Turbell spoke in support of the cell tower". Of course he is in favor of it. He owns the land on which it is proposed to be built and stands to profit well from the lease to Capital Telecom. That fact is mentioned further in the story, but is misleading as a front page caption. And to say that "he lives in the neighborhood" is really stretching the facts.
His home up on Desert Sky Dr. off 89a heading up to Jerome is 1.25 to 1.5 miles from the cell tower location and is hardly in "our" neighborhood. His reception will be just fine when Capital Telecom locates another tower near the cement plant, which is where they should be as it is already an eyesore. His only reason for supporting this tower is greed, and it is amazing that he is an Associate Broker Realtor and would be eager to do something that would lower people's property values.
And the mention by Mr. Waniewski that only an easement over Mr. Terbell's land would give another resident ownership of that view. We are not asking any ownership over the view, only that the Commercial zoning stay just as it is, Commercial Zoning - without any extra privileges over the limitations of Commercial property. Yes, a five story building could be erected there, but how many building over two stories are there in Clarkdale now? I would take any standard Commercial use of that property over a cell tower that needs a Conditional Use Permit.
Now regarding the town of Clarkdale and the vote on the Conditional Use Permit: Our town code regarding such a permit very clearly states that the project should not have any major adverse effects on anyone living or working in the vicinity or to any adjacent properties or neighborhoods. And included in the list of adverse effects is mentioned health. The town believes that their "hands are tied" because the FCC has included a rule within its regulations regarding the siting of a cell tower that no one can object to the tower because of health risks. And the town's attorney has told them because of that rule they are off the hook liability-wise. However, our town code clearly states that they cannot allow something that could be harmful to our health. What a dilemma for them. However, we are legally free to ask them to protect us from harm and they have plenty of choices for other categories of reasons to deny the Conditional Use Permit, like the destruction of our view and the lessening of our home valuations. But isn't it ironic that not only will the tower be sending out harmful RF radiation we will have to look at the tower as a symbol of the denial of our basic right as an American, that of the Freedom of Speech to object to that harmful effect!
Then there is a matter of another criteria that can prevent the Conditional Use permit to be issued and that is if the "project" does not fall within the guidelines, objectives and policies of our Town General Plan. In addition to having served on the Clarkdale Planning and Zoning Commission and the Board of Adjustment, I was a member of two Plan Update focus groups and the ultimate Committee that wrote the Town Plan.
It clearly states our commitment to identify and protect the Views and vistas of our gorgeous town. In fact the town cared so much for this view protection ideology it created a 500-foot view shed overlay onto 89A to protect the views. This cell tower is proposed to be located only feet behind that 500 foot line, and it will still be in the view, making a mockery of the view shed overlay intent if the tower is approved.
And regarding the pretty white balloon (pictured on the front page of the paper), to mark the spot and height of the proposed tower, it was a nice fluffy touch, given that the top of the tower will be three large ugly angular metal arrays.
So if the town proceeds to approve a conditional Use Permit for this property it will be breaking its own Town Code and the intent of its Town Plan. And if they think that requiring the tower to be dressed up like a big fake pine tree will make it all OK, they have to remember that we who live near it and future home buyers are not stupid. It will still be emitting the same RF frequencies. And to say that the town needs better service at the expense of many residents would be like saying they need to approve a pig farm there because the town needs more bacon. 
Karen Farrington Daniels
Clarkdale