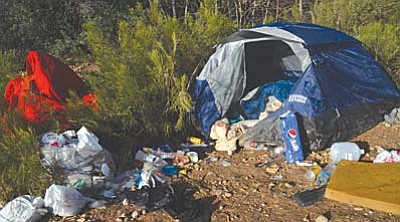 Originally Published: January 30, 2015 6:31 a.m.
COTTONWOOD -- An effort is under way this week to quantify the homeless population in the Verde Valley.
"We look in forests and washes and those places that are popular," said Eliza Louden of Catholic Charities, which coordinates the count through the Verde Valley Homeless Coalition. "We are going to popular places such as the Thousand Trails area near the Verde River and SR 89b, a side road where the Rainbow have gathered in the past."
They look for volunteers to assist with the count, but even though they got a number of calls no one actually signed up this year. Fortunately, Louden said, "We have a great team of outreach folks including Spectrum Healthcare and the Sedona Food Bank, which really stepped up."
The Point-in-Time count is a tally of sheltered and unsheltered homeless persons on a single night in January. HUD requires that Continuums of Care, such as the Verde Valley Homeless Coalition, conduct an annual count of homeless persons who are sheltered in emergency shelter, transitional housing, and Safe Havens on a single night. Continuums of Care also must conduct a count of unsheltered homeless persons every other year. Each count is planned, coordinated, and carried out locally.
The count began Tuesday, and designated as the official HUD Point in Time, though Louden said the count will actually continue through Jan. 30.
She said, "It is the only time that rural Arizona actually speaks to HUD and expresses needs of our area."
This year, the survey conducted with each contact "went into more detail in terms of demographics and how long in Arizona."
Those details go straight to the top in terms of funding.
Even though the official HUD count is scheduled every other year, Louden said, "We voted to do a summer count this year to try to see fluctuation but it won't be reported to HUD."
During the summer count, 125 people were identified in Yavapai County.
HUD defines homelessness as "the primary night time residence is a place not intended for human habitation." Louden said those numbers do not include a large Verde population that is "couch surfing" or "doubling up."
Since HUD also does a shelter count, a significant population is not included in the unsheltered homeless counts.
The actual numbers from this week's official count will be refined by summer.
More like this story