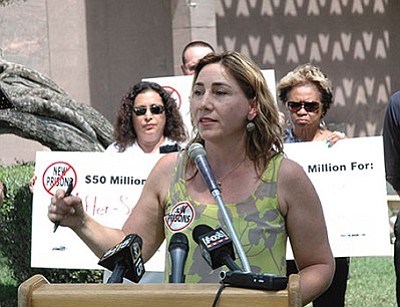 Originally Published: July 21, 2015 11:47 a.m.
PHOENIX -- Gov. Doug Ducey won't consider scrapping plans for new private prisons no matter what a review of a riot at a Kingman facility shows.
And Ducey has no interest in proposing alternatives to incarceration.
Gubernatorial press aide Daniel Scarpinato acknowledged Monday that many questions were raised following the incident earlier this month at the privately-run facility. State officials were forced to relocate more than 1,000 inmates after the melee which severely damaged part of the facility.
Ducey has since ordered Corrections Director Charles Ryan to find out what happened. And he directed the state agency to postpone by two months, until Sept. 22, taking bids for another 1,000 new prison beds.
But Scarpinato said that the bidding will proceed.
"There is a need for more beds,' he said. "And that's just a fact.'
Scarpinato said Ducey is not interested in the alternative of having the state construct its own facilities which would then be run by the Department of Corrections with state employees.
"Building a new facility would be very, very expensive in terms of up-front costs,' he said. Then there are the ongoing costs of staffing the facility, versus simply paying a per-inmate cost to private companies with a minimum guaranteed occupancy.
Questions remain, however, whether private prisons make financial sense in the long run.
In 2012 the Republican-controlled Legislature eliminated a requirement for the Department of Corrections to study the costs and benefits between public and private prisons. That came after a key House Democrat said one study that had been done shows it costs $5 a day more to house a medium-security inmate in a private prison than one run by the state. But Sen. John Kavanagh, R-Fountain Hills, a major proponent of private prisons, called that study of "questionable reliability,' saying it did not consider issues like an underfunded pension system for corrections officers or even up-front construction costs.
He said when legislative budget staffers retroactively factored those in, private prisons were $7-a-day cheaper for medium security inmates than state costs. Kavanagh said lawmakers ended the studies because they underestimated public prison costs "and it is better to have no studies than misleading ones.'
Scarpinato acknowledged the governor could demand a new study from scratch, one that takes all the costs into account. He said, though, that Ducey for the moment has no interest in that -- or in any plan that would reduce the number of people being locked up each year.
"The decision that's been made is we're not going to risk public safety,' Scarpinato said.
"If there's a need for more beds, we're going to need them,' he said. "We're not going to release people from prison.'
At a press conference earlier Monday, a coalition of various groups called on Ducey to cancel the plans to spend about $24 million this fiscal year to bring the first 1,000 private beds online. But Caroline Isaacs of the American Friends Service Committee, said this isn't simply a question of replacing private prisons with new public ones.
"The answer is not more prisons,' she said, saying the answer is drug treatment "so that those folks get help for the problems that are leading them to be incarcerated.'
More to the point, Isaacs said there need to be alternatives like intensive probation that are being used in some other states. These often involve ankle bracelets to monitor someone's movements, a requirement to go to work and regular testing for drug and alcohol use.
"It's a question of reallocating, reinvesting those resources,' Isaacs said.
But Scarpinato said it's not that simple.
"A lot of people are talking philosophically about what they would like to see or what they think is happening,' he said. But Scarpinato said that's not a plan.
"To have a discussion like that you'd need to put forward a specific proposal that would explain to the public in the light of day and in a transparent way, 'Here are the individuals that we're proposing to release out of prison and into society in order to save money,' ' he said. That, he said, means the public knowing the kind of people who would not end up behind bars, the crimes they've committed and what has been their criminal history.
"No one has put forth anything specific,' Scarpinato said. "And until they do, you can't have a real discussion about it.'
House Minority Leader Eric Meyer, D-Paradise Valley, said there have been concrete proposals. For example, he said, the Department of Corrections suggested allowing inmates near the end of their sentence to serve time with day release and ankle bracelets, at a cost of less than half of keeping them locked up.
But he said the Republican-controlled Legislature rejected that idea. Scarpinato acknowledged that Ducey, as the state's chief executive with purview over the Department of Corrections, would have the kind of data necessary to determine if some of the 42,679 inmates currently behind bars might be suitable for intensive probation instead. But Scarpinato said his boss is not interested.
"We're interested in doing what's right for public safety,' he said.
On Twitter: @azcapmedia
More like this story