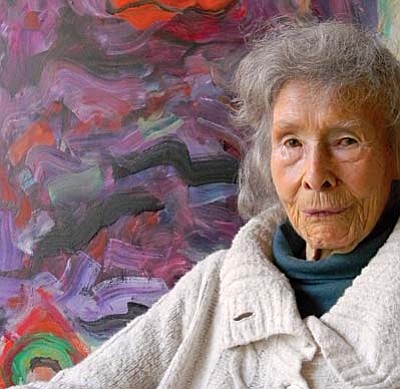 Originally Published: March 2, 2015 2:31 p.m.
For her entire life, artist, author and visionary, Adele Seronde has been profoundly moved by creativity. Captivated by the beauty that surrounds her, particularly nature, and sparked by her imagination she has created a bold body of work as an artist, author and social activist with Gardens For Humanity.
She has created a legacy of vision and throughout March Goldenstein Gallery and Sedona Arts Center will honor this longtime resident of Sedona in a life-long retrospective exhibition spanning 60 years with paintings of landscapes, portraits, gardens and flowers, and with the spoken and written word. There will be interactive discussion panels and children's workshop.
Like the artist herself her work is vibrant, lush and evocative. A mentor to both artists and poets "I believe that art has the miraculous power of beauty which inundates and transforms both the creator and the world." Adele says of her work, "As a painter, shapes, lines and color are my language, weaving together a tapestry of living greens, flames, sapphires and prisms."
Throughout her career, she has done portraits and landscapes in a variety of media, including pastels, pencil and oil paints. In her 20s, she studied under Karl Knaths at the Phillips Museum in Washington, D.C. and Bennigton College in Vermont, with Hans Hoffman in New York City and Karl Zerbe at the Museum of Fine Arts in Boston. Her expressionist landscapes have been on display at dozens of galleries including Weedon and Nova galleries in Boston, and Vigna Nuova Gallery in Florence, Italy.
Known for her unique style of painting, this artist, author and poet does not use an easel. Instead, she prefers to lay the canvas flat on the ground, often placing additional canvases around it expanding the painting.
In 1996 she founded Gardens for Humanity, which has been honored multiple times including the prestigious "Take Pride in America" award in recognition for outstanding use of volunteers in creating gardens. The Secretary of the Interior and the Governor of Arizona presented this award. Adele describes herself as a "Gardener of the Spirit" and her work is definitely food for the body and soul. In describing her guiding philosophy in the preface to her book, "Our Sacred Garden - The Living Earth" she says:
"I believe that the planting of gardens, both in the soil and in the heart, is one deeply creative and healing action which can enchant people of any culture, race, or belief. Indeed, the garden is a metaphor for healing both self and community. It is the exploration of the symbolic Sacred Garden; the original paradise of everyone's dream; that place of lost myth and poetry, so needed today; a sanctuary of healing, color, and fragrances, of still and running waters; a source of fresh resolution in our hands and in ourselves by which we can transform the planet."
To her, the garden is a metaphor for healing, a source to love and nurture the Earth.
She comes from a family of artists and that tradition continues though new generations. Son Antoine Seronde's photography, Daughter Jeanne Seronde Perkins' paintings and mixed media pieces, grandsons Cazoubon and Michael Seronde's paintings and metal work will be exhibited alongside Adele's work during the month long exhibition Adele Seronde: 60 Years of Chasing Light at Sedona Arts Center.
This Month Long collaborative multi-faceted event kicks off on Friday, March 6, with opening reception at Sedona Arts Center. At 4 p.m. at Sedona Arts Center in partnership with Red Earth Theatre, will be a very special Poets Corner, featuring poetry written by and inspired by Adele read by local Sedona poets including Mary Heyborne, Kayt Pearl, James Bishop, and Adele herself. Enjoy words and thoughts of the artist. A book signing of Our Sacred Garden and opening reception for Adele Seronde: 60 Years of Chasing Light follows from 5-8 p.m. Local harpist Ani Williams will be playing.
From 5-8pm Goldenstein Gallery's opening reception for Impressionist-Expressionist also features the paintings by Adele Seronde, Allen Powell, Patricia Griffin and Marilyn Bos. Impressionist-Expressionist is part of a three-month series at Goldenstein Gallery featuring different art modalities. The public is invited to meet these engaging artists and other local artists at the opening reception for Impressionist-Expressionist on Friday, March 6, and on Saturday from 2-4pm.
Goldenstein Gallery is open daily and located at 70 Dry Creek Road. Visit www.GoldensteinArt.com or call 928-204-1765 for information.
For more information call 928-282-3809 or visit SedonaArtsCenter.org.
More like this story