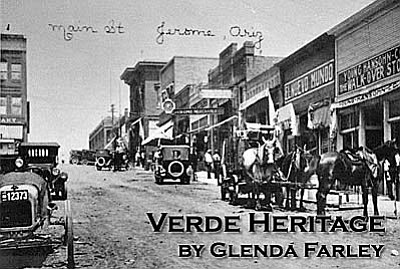 Originally Published: March 13, 2015 8:39 a.m.
The W. G. and R. W. Wingfield Mercantile was in the original adobe building until 1911.
"Construction was begun on the cement building. ... By late fall of 1911, we were housed in the new building with a complete stock of groceries, meat, dry goods, hardware and the post office."
"We continued to operate and serve the people with our ups and downs for a number of years."
"By 1914, I was getting to be a good sized boy, 10 years of age, so my father figured I was old enough to work, or at least learn how to work. In evenings after school and on Saturdays, I had to put in a few hours in the store."
"My chores were dusting shelves, sorting beans, cleaning coal oil lamps, washing spittoons and cleaning stables. The two latter jobs I loathed with a passion."
"In the spring, every customer that walked in the front door had a bucket of eggs to trade for groceries. The counting and cleaning of the eggs was also a job that fell to me."
"As I look back, I know this training did me a lot of good, I learned how to do things (even if it was to clean the spittoons) and above all I learned how to accept responsibility. My hours were not long, however, which gave me time to play."
"1914 was the beginning of the First World War. Every evening, men of the town would gather in the store anxiously awaiting the arrival of the stage to receive 'The Journal Miner,' a daily newspaper published in Prescott."
"By 1917 the town was over anxious about several of her boys that were already overseas in the midst of the fighting."
"Our customers were good, honest and hardworking farmers and stockmen. I have known the store to carry a person who was down on his luck as long as two years or longer before he was able to pay. Their credit was good as a rule."
"As long as a customer was trying to pay his debts, the store stood by him and I think that policy paid off. A great many of our people might have gone hungry had we not stood by them, so would we have failed, had it not been for our loyal customers."
"EXTENSION ADDED: In 1915, and extension on the north was added to the store building which housed the Camp Verde State Bank, a barber shop run by Frank Tompkins and Wingfield's drug store and the post office."
"DEPRESSION HITS: In 1919, after the end of the war, world conditions caused the depression of the early 20's that affected Camp Verde."
"Cattle prices hit the bottom. In fact it became so bad that cattlemen couldn't sell a cow and farm commodities dropped in price. most of the cattlemen and farmers owed us for their year's supplies and now had no money to pay their store bills."
"Merchandise in those days was bought from our suppliers on a six month's credit basis. In other words it would not become due until the end of six months."
"At this time we had bought very heavy for the fall and winter business. Prices on all commodities were way down; we had bought when they were high. I remember that men's Levi pants, that sold for $2.25, went down to $.75 per pair. Hats, shoes and all wearing apparel was the same."
"However, groceries and hardware were not quite so bad. The problem was, we had no place to sell for people had no money. I can remember my father was frantic with worry about what to do to survive in business."
"THINGS IMPROVE: But at least there was a ray of hope, he had an offer to go to Clarkdale to open a store."
"Clarkdale, being a closed town, one had to have an invitation from the Clarkdale Copper Company to operate a business there. The Copper Company had been having some trouble with their employees because there was no other place to trade other than the store operated by T. F. Miller Co., hence the chance to open an outlet for our stock in Clarkdale was a wonderful opportunity as the smelter and mines were still operating."
"So in the summer and fall of 1919, we opened a store in Clarkdale and made our home there."
"My father had a nephew by the name of Fred Townsend, just back from the war in France, whom he placed in charge of the Camp Verde store. My father managed the store in Clarkdale and the move was successful as business in Clarkdale was good. We were able to survive."
"By 1921 cattle prices had become more stable, the cattlemen were now making a little more money and could pay their accounts. In Camp Verde the salt mine was making preparations to open; by 1923 it was in production. Both stores were now doing a good business, things looked brighter."
"However, by 1924 business in Clarkdale began to look bad. There were rumors that the mines and smelter were closing. It all became a fact to us when one of the mine officials, being a friend of my father's, advised him to dispose of the Clarkdale store."
"We were able to sell the store for a good price and luckily, too, for the closedown came in 1926 and did not open again until the start of World War II."
"BACK TO CAMP VERDE: So in 1925, back to Camp Verde we came, which had always been home. We were very fortunate during the depression of the late 20's and 30's as the Salt Mine continued to produce until 1932."
"I had graduated from the Clarkdale High School in 1923 and attended a summer school session at the college in Flagstaff. But my sister, Margaret, had one more year at the Tempe College and my father didn't feel that he could keep two in college."
"I remained at home to work and after moving to Camp Verde in 1925, I was placed in charge of the grocery and hardware departments in the Camp Verde store. Due to the operation of the Salt Mine, we continued to operate the store with a good deal of success all through those depression years until June 13, 1940, when a tragedy of a different kind struck us."
(The Verde Independent; Wednesday, November 4, 1970; page 19.)