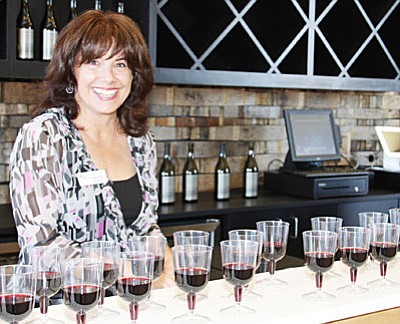 Originally Published: November 14, 2015 12:09 p.m.
CLARKDALE - Beginning noon Friday, Nov. 20, members of the general public will have the opportunity to sample student-crafted wines at Yavapai College's newly-opened Southwest Wine Center Tasting Room at the Verde Valley Campus.
For grand opening weekend, the tasting room will extend its hours to include Friday and Saturday from noon to 6 p.m. Regular tasting room hours will resume Thursday through Sunday, noon to 6 p.m.
"It was always part of the plan here at the college," said Philip Brown, tasting room manager. "We wanted to make sure to showcase all components of having a winery."
Five types of student-crafted wines will be available for sampling: Viognier, Grenache, Syrah, Merlot and Petite Syrah.
Tasting flights, glasses and bottles of wine may be purchased, as well as T-shirts. Tours of the winery will also be conducted.
Proceeds will support programs and operations at the Southwest Wine Center.
"Our students come from all over the place. Here, they get a vineyard, they get a winery and now they can see how all of that comes together," Brown said.
The Southwest Wine Center is situated on 12 acres and currently has about 12,000 vines planted. The vineyard produces 10 grape varietals and the winery capacity is 3,000 cases per year.
Currently, Yavapai College is the only college in the southwest offering an Associate of Applied Sciences Degree in Viticulture and Enology. A one-year viticulture certificate became available in 2011, and a certificate in enology was made available just this year.
Viticulture is the study of grapes and the cultivation of vineyards for wine making. Enology is the study of wines and wine production, including the related business and science aspects.
Students must be 21 years of age to enter the enology program.
"The Southwest Wine Center is a working model of what students will experience when they graduate and become a part of the growing local wine industry," said Yavapai College Director of Enology Michael Pierce.
"We are really excited to be the showcase for the community and to engage the community as much as we can," said Brown.
A former cellar master, Brown came here from San Francisco and has been in the wine industry for 11 years. His local experience includes working as the tasting room manager for both Page Springs Cellars as well as Burning Tree Cellars.
"The best recommendation would be for our students to find a home in the industry. We've only graduated five so far but all work in the wine industry," said Brown.
The Southwest Wine Center is located at the Verde Valley Campus of Yavapai College at 601 Black Hills Dr. in Clarkdale. For more information call 928-634-7501 or visit www.southwestwinecenter.org
More like this story