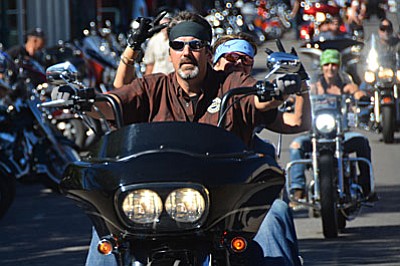 Originally Published: November 21, 2015 1:49 p.m.
It would be great if our economic development efforts resulted in all kinds of new business and industry flocking to Cottonwood with high-paying jobs.
Short of that happening anytime soon, a proven strategy that injects new revenue into a community's coffers is achieved through high-profile events. The Sedona Marathon is perhaps the region's best example of this; the 2013 event had a $1.6 million economic impact, generating $60,000 in sales and bed tax for the City of Sedona. In 2014, the Sedona Chamber of Commerce reports the marathon "brought in nearly 3,000 participants from 47 states and six countries. We present this event as a way to bring visitors to Sedona during a time of year that traditionally has been slow for businesses. Last year, the event brought an additional $2.6 million in spending by participants and spectators, including more than $100,000 in taxes to the City."
There are a dozen or more such events over the course of the year in the Verde Valley, one of which was the recent Thunder Valley Rally. According to a study by Northern Arizona University, this year's Thunder Valley Rally had a $1.7 million economic impact for Cottonwood.
The money is nice, but it does not qualify Thunder Valley Rally as a success in the eyes of some people. The event received mixed reviews during a discussion by the Cottonwood City Council Tuesday. Councilman Tim Elinski was especially critical. He was adamant the event is a bad fit for Old Town Cottonwood. Others agreed, going so far as to say the event is a powder keg for potential violence. One tavern owner reported that his security people collected a "bucket full of knives and there were guns" from people who wanted to enter his bar.
A news release issued by Cottonwood Police Dept. after the weekend event stated the weekend event resulted in everything from disorderly conduct, criminal damage, fights, trespass, domestic violence, a stolen car and one incident in which a man shot his gun into the hood of car while pulling it from the holster.
Through it all, there were no felony arrests, but it's only fair to ask if Thunder Valley Rally falls into the category of family friendly.
It's not all negative, though; many consider Thunder Valley Rally to be a great event for Cottonwood. Our own Facebook page shows strong support for Thunder Valley Rally.
Next month, the City Council will again discuss whether or not Thunder Valley Rally is a keeper.
That discussion should include some brainstorming about a replacement event in the event TVR goes the way of Rhythm & Ribs ... $1.7 million is a lot of money to kiss goodbye.