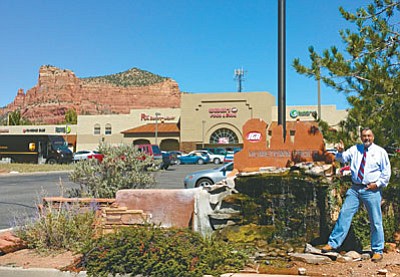 Originally Published: October 1, 2015 6:11 p.m.
"A great place to shop and a great place to work" has been Weber's IGA mission for the last 30 years.
As the Weber family celebrate their 30th Anniversary in the Village of Oak Creek, their mission remains the same. Weber's IGA is "Hometown Proud" of its community, but the Webers also want their store to be a good neighbor and a place the community is proud of.
According to Jake Weber, the success of "the team" is what has been important to him, and, "The community is definitely part of the team."
The Weber family began their journey with the opening of Oak Creek Market in Uptown Sedona on Jan. 28, 1981 - with only two employees.
On Aug. 17, 1985, they opened a 10,000-square-foot grocery store on SR-179 in the Village of Oak Creek where Sedona Digs Furniture and Blue Moon Cafe are now located. By then, they had staff of 17 employees, and Weber's became the area's first full-service grocery store. However, it wasn't until 1986 that Weber's joined the IGA Alliance.
With support from the community and IGA, Inc., Weber's soon outgrew its original location, and on May 27, 1998, held the Grand Opening of Weber's IGA Food & Drug at its current 30,000-square-foot location on Verde Valley School Road.
In addition to his family, Jake says he credits his success to surrounding himself with qual-committed people. Kim Christensen and David Miller, who are two of Weber's original 17 VOC employees, are still with the grocery store, and David Sterzing, John Capite, Ban Kwong and Guery Quiroz have been with the team for 20 or more years.
Jake admits being an independent grocer can be a challenge at times, but says it's not without its rewards.
Having the flexibility to interact with the community on all levels keeps Weber's in touch with the needs and activities close to home.
Jake puts the community first when considering donations, making sure he uses his resources to make a difference in our community. Youth sports, Big Park Community School, the Verde Valley Sanctuary and Disabled Veterans are some of the many local organizations that benefit.
On a side note, Jake and Leann celebrated 40 years of marriage, memories, faith, family, tears and joy with grace and strength together, always providing the cornerstone for love of family.
The Weber Family Salute:
Stronger Together, Together Forever
Josh & Johanna Weber, Linus & Fiona
Lisa Weber (Memories Forever 2009), Jaiah & Jillian
Brad & Lori Johannsen, Josh Johannsen
Stacey & Ryan Beck, Ava & Emma
Memories Forever, Memories Ahead
Jake, who thanks everyone for their support over the years, says, "Passion, pride and the will to overcome obstacles transformed Weber's IGA Food & Drug beyond a vision of 'a great place to shop and a great place to work' and into a community center that truly represents the phrase 'Hometown Proud.' Thirty years and we all look forward to the next chapter. Thanks to all!"