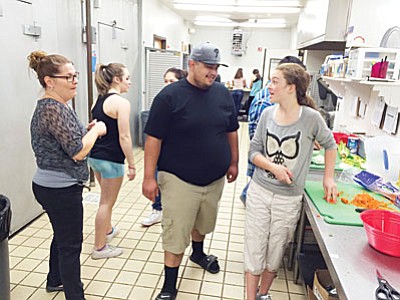 Originally Published: October 23, 2015 10:25 p.m.
COTTONWOOD - Cesar Ruiz, 21, could have followed some of his fellow classmates into a life of trouble. Instead, he chose a promising culinary career and now shares his skills with students at Cottonwood Middle School.
"I motivated myself to stay out of trouble when others kept getting themselves in trouble. I learned respect and work ethic," said Ruiz.
A former CMS seventh grade Bridgeway Alternative Program student who himself struggled with reading, Ruiz listened to adult mentors who guided him to a better way of life.
So Ruiz began working at age 17 as a dishwasher at Bing's Burger Station in Old Town. When the opportunity arose to fill-in as a cook, Ruiz jumped-in, learning new skills as he went.
His on-the-job training in culinary techniques opened new doors. Ruiz was soon cooking at such upscale venues as Cucina Rustica and Enchantment Resort in Sedona, finally settling-in at Sedona Winds Retirement Community in the Village of Oak Creek.
With a steady job and new son on the way, his life looked complete.
Then one day a chance meeting with an ex-teacher changed both of their lives.
"I ran into Cesar at Thunder Valley this summer and he was in a cook's outfit," said Barbara Amato, Ruiz's former reading teacher and current instructor for the eighth-grade culinary program.
"We got to talking and I asked him, 'Would you be interested in being my cook for culinary classes?'" Amato said.
Fortunately for Amato and her students, Ruiz agreed.
The payoff was immediate.
"Originally, I was going to have to go to different restaurant owners and piece it all together," said Amato. "It's so much easier to have one person work that out."
Ruiz take a progressive approach to teaching culinary students, beginning with safety and sanitation, moving-on to knives, then introducing soups and stocks and breads and doughs.
Both Ruiz and Amato (who "has a passion for food") combine their experience to play-off one another's ideas, often creating new ideas as they go.
"She might text me before class saying, 'What about this?', and I might text her back, 'Maybe we can add this, too,'" said Ruiz.
Amato does her best to educate her culinary students about all facets of life. During a recent session, Amato pointed-out the discount label on a package of soon-to-be day-old rolls, saying, "This cost only a third as much as a full-price package and it's still good -- that's a way to stretch your money."
"When my students look at a chunk of cream cheese, they're not just thinking it's a chunk of cheese. Instead they're thinking, 'That's for artichoke dip' or 'that's filling for pumpkin roll,'" said Amato.
As students scurry around the school cafeteria's kitchen, it's clear that they are motivated and purposeful. This is their first look at today's recipe: Chicken and vegetable soup made from scratch, toasted rolls topped with butter, paprika and parsley and apple crisp topped with vanilla ice cream and house-made caramel sauce.
Amato and Ruiz form teams from the 16 enrolled students, constantly supervising the groups as some chop vegetables, others slice apples and a few watch and stir the cooking pots. At the end of the two-hour class, student get together to compare notes and enjoy the food that they learned to professionally prepare, thanks to Amato and Ruiz.
With such a successful program ("I have a waiting list to get in," Amato said), maybe fate had a hand in re-uniting the former student with his former teacher.
"When you think about two people who haven't seen each other in years and then run into one another and look what came out of it," said Amato. "It all came full circle."
"Honestly, just working with kids to show them what I have learned gives them an opportunity to get ahead and get a trade. Hopefully, this will make an impact on what they want to do," said Ruiz.
This after-school program depends on volunteer support.
"The James and Gloria Henderson foundation are the wonderful folks that fund this program. If we did not have those dollars, this program simply wouldn't exist. If anyone is in the process of estate planning and would like to contribute to the foundation, Dianne Prescott is the Trustee," Amato said.
More like this story