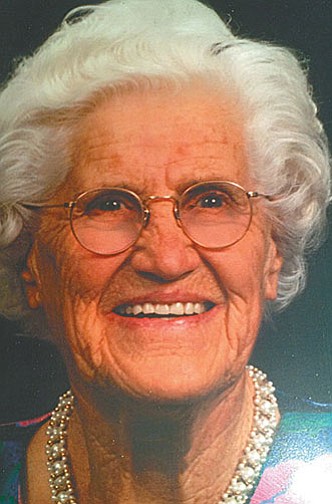 Originally Published: September 15, 2015 11:24 a.m.
Althea Ellen Terry Burns, born August 27, 1906 in Guymon, OK. Family moved to Flagstaff in 1923. 
Althea married Thomas Nelson Burns in 1925. Althea was the oldest living graduate of Flagstaff High School.  Althea and Nelson raised 5 children: Thomas, Mary Eva, Elaine, George and John (twins.) 
Nelson and Althea had a number of businesses including an appliance store, a Chrysler/Plymouth dealership, radio repair, and refrigeration. 
Althea majored in secretarial science, making her a perfect office manager for her husband's businesses!  Althea and Nelson moved to Cottonwood in 1955.  They became active in their church, entertaining family and community of friends. 
Nelson went to be with the Lord after 66 years of marriage. The twins John and George joined Nelson in their heavenly home.  Althea spent her last few months at the Cottonwood Village Assisted Living.
Her memorial will be at the United Methodist Church in Cottonwood, September 19 at 2:00 PM, 901 S. 12th Street.
(Information provided by survivors)
More like this story